The Guyana Rugby Football Union (GRFU) rolled out its calendar of activities for the first half of the year and disclosed that the services of an Australia based Technical Director have been acquired.
These and other details were related to the media yesterday at the headquarters of the Guyana Olympic Association (GOA) when the union held its first press briefing for the new year.
President of the GRFU, Peter Green, chaired yesterday's proceedings, intimating that Guyana will be playing several tournaments in the USA, Canada and Hong Kong with the ultimate goal of clinching a 2016 Olympic berth.
Green also disclosed that the union will benefit from the expertise of Guyana born, Angus Thompson who resides in Scotland and coaches in Australia. Thompson has verbally agreed to become the new Technical Director who will assist the local coaching staff headed by Theo Henry.
15s rugby.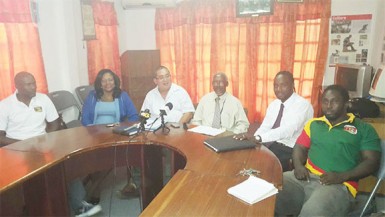 The ruggers will open their campaign on home soil with a NACRA 15s matchup versus Barbados on March 7. The NACRA 15's champions then tackle Trinidad and Tobago in an away game on April 11.
Once the national outfit is victorious in the above encounters, they will play the winner of the Northern Zone for the overall NACRA 15s title in a home game on April 25.
7s rugby.
The Green Machine will travel to Hong Kong to compete in the prestigious HSBC Hong Kong 7s tournament scheduled for March 27-29.
"A team has been shortlisted and will begin training with immediate effect," Green told the gathering yesterday.
For the Hong Kong tournament, accommodation, meals and airfare for Guyana's contingent will be covered by rugby's governing body, World Rugby, formerly the International Rugby Board (IRB). They earned that right after winning the NACRA's 7s tournament in Mexico last month, for the seventh time.
Guyana will then contest the first Olympic Qualifier in North Carolina on June 13-14. This will be followed by the Pan Am Championships in Toronto, Canada from July 11-12.
Funding.
According to the schedule, the national rugby team is slated to compete in Asia and North America and Green pointed out that the costs of attending these tournaments will be in the neighborhood of $US100, 000.
Half of which Green highlighted have been pledged by the GOA, the private and public sector and the government of Guyana.
Green also mentioned that for 2015, more attention will be placed on women's rugby and the under-19s.
Adams and Henry on the move.
Petal Adams, the union's assistant secretary/treasurer and chairperson for women's rugby will wing out for Chicago, Illinois today to attend a Get into Rugby (GIR) seminar.
Henry, Guyana's only level two coach, will be traveling to Budapest, Hungary to be certified as a strength and conditioning coach from March 15 to June 5.
This year promises to be a challenging one for the NACRA 7s and 15s champions since Guyana will be playing top flight rugby on the road to Rio (2016 Olympics). (Emmerson Campbell)
Around the Web