New York (SMS)  — Brenessa Thompson will be carrying a target on her back when she hits the track at today's Millrose Games in New York's New Balance Armory Center. But, it's not like the young Guyanese sprinter is chary on the added credence of a bullseye on her person.
"When the bullseye is on your back, you're in front and that's a good place to be. I like that. I don't mind it. I aim to keep that way," the track pin-up assured with quiet poise. Thompson faces a gaggle of who's who sprinters from Eastern USA in the High School (HS) Girls 55m race at the 108th running of the world-famous meet.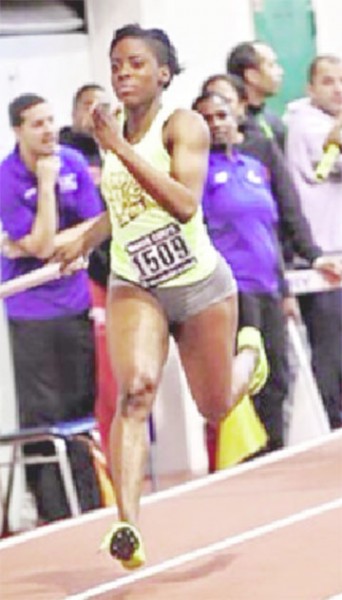 Added, is Thompson's double dose of season leading performances as US#1 at the distance. That gained her repute as the 'one-to-beat' in the varied field of top-flight sprinters.
"I ran with them at different, different meets before and I won, so I am quite likely going into the race as their target," she told this newspaper after mid-afternoon practice at the Center's track on Thursday.
The 18-year-old had sprinted to top times of 7.02s in mid-December and then, a personal best (PB) 6.95s on January 10th, which also gained her an all-time US#7 rank. "My goal is to run 6-point again, but faster. Hopefully like six-eight especially with my new start and everything. I am really excited."
In her preps, Thompson and her coach changed her (starting) blocks and spent time adapting. The block swap is likely to ignite a better launch to her notorious slow starts. "We have been doing a lot of 'race modeling' making sure I know what to do and when to do in the 55, 'cause it's a very short run," she added.
After a 2013 win as a sophomore, the Medgar Evers College Prep HS student-athlete resigned the prestigious title last year, placing 3rd in a race she nearly missed due to a horrid season of injuries.
"Last year my injuries were all because of me, and I am a smarter person from those experiences. I have a positive outlook for this year trying to stay healthy". She said the high school track community was foretelling a bright undercover season this year, after her amazing comeback for the 2014 outdoors following the injuries. "Yes, I would think I am super healthy. There's nothing really lingering. There are no injuries this year. I want to thank God for that".
The stand-out senior will, also, play a key role in her school's sortie in the Girls 4x200m and 4x400m relays at the meet. The Medgar Evers quartet will look to uphold their champions' legacy in the former, after having already carried the baton for a 2015 US#1 time of 1:379.46 at the Hispanic Games in mid-January.
In her last year as an HS athlete, the speedster known as 'Track Royalty' and 'NY Sprint Queen' wants to leave her "mark", believing what coaches Nicola Martial and Shaun Dietz told her of having a high chance to run really fast. "I want to go in there relaxed and humble and don't want to get too overconfident".
"Am gonna' stay determined, like, knowing the hungriest feet always win the meal," came a meek swank from the brawny sprinter. Thompson would need that focus and grit to grind out her goals – a PB, a win and retrieval of her top-billing. Even after those, she'd still be subjected to a sniper's telescopic sight.
The Millrose Games, the oldest, grandest show of classic athletic rivalry, features events for the world's top pros, as well as athletes from high schools, colleges, elite clubs, veterans and pee-wee runners. It will be live on NBC Sports Network (NBCSN) from 6pm EST, as well as www.USATF.tv from 2pm EST.
Around the Web