Number three-ranked Colts got their campaign off to the perfect start, crushing Linden unit Bankers Trust Falcons 98-68 when the second annual Guyana Amateur Basketball Federation (GABF) 'Road to Mecca' National Club Championship continued on Wednesday.
Hosted at the Cliff Anderson Sports Hall on Homestretch Avenue, Dave Causway led the winners with figures of 19 points, seven assists and as many steals while Shelroy Thomas contributed 19 points and six assists. Rayon Cummings and Shane Webster contributed 15 and 14 points respectively in the win.
Meanwhile, Marlon Persaud top-scored with 18 points for the losers and Devon Thompson and Thornton Wilson scored 13 and 12 points respectively. Trailing 19-14 after the first period, the Colts took advantage in the second stanza, outscoring their opponents 26-14 to go into the half-time period leading 40-33.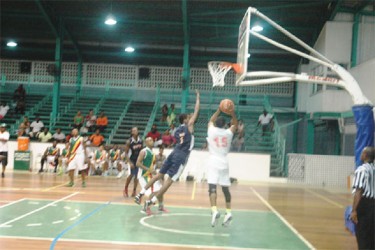 The Georgetown side then extended their lead in the third period, outscoring the Falcons 28-18 to go into the final stanza ahead 68-51. The Colts then closed out the come-from-behind win, netting a whopping 30 points in the period while restricting Falcons to 17 points.
In the second fixture of the night, last year's runners-up Retrieve Raiders squeaked past NA Warriors by a 48-44 score line. Neil Marks netted a game high 20 points and grabbed nine rebounds in the win for the Linden unit.
Edmar Semple recorded a double-double of 16 points and 12 rebounds in the loss. Leading 16-8 at the end of the first period, the Raiders extended their advantage in the second quarter as they outshot the Warriors 17-9 to go into half time ahead 33-17.
However, the match-up would prove to be a game of two halves as the Warriors cut the deficit to eight points in the third period, outscoring the Raiders 16-8 to go into the final stanza trailing 41-33. The Raiders survived being outscored 11-7 in the final period to secure the hard-fought win.
The Super Eight Playoffs are scheduled for today at the same venue. The Final Four will follow the next day with Finals set for Sunday March 1 in a pulsating weekend of basketball.
Winners of the tourney will pocket $400,000 and the championship trophy while the second, third and fourth place finishers will receive $200,000, $150,000 and $75,000 correspondingly.
The tourney will also be used as part of the selection process for the upcoming international series against Bermuda set for March.
Around the Web