Hamza Eastman out pedaled a field of Guyana's premier wheelsmen yesterday to ride off with the spoils of the feature 35-lap event of the 24th annual R&R International 11-race programme.
Despite heavy winds coupled with intermittent showers at the National Park, the Team Coco's standout raced to pole position in a brisk one hour, 15 minutes and three seconds, more than four minutes faster than last year's winning time (1h:19m:10s) recorded by Team Evolution's Marlon Williams.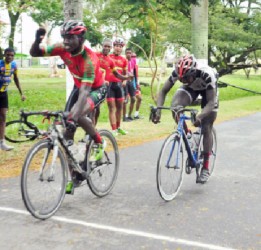 The national cyclist also snared a sprint prize while leading last year's most successful rider, Orville Hinds (Team Evolution) and Team Alanis' Alonzo Ambrose onto the podium.
Hinds however pocketed half of the eight sprint prizes.
Eastman's club mates Mark Harris (4th) and Jamal John (6th) were also among the top six rewarding positions. Akeem Wilkinson who is rumored to become a member of Team Evolution placed fifth in the fixture.
The feature rolled off at a blistering pace with the starters all looking to seize the advantage. Several groups of riders staged mini breaks but were eventually wheeled in by the chase peloton.
Six laps from the finish however the top four riders broke away and never relinquished their advantage.
The four strong unit rode in tandem to hold off the chase pack until teamwork was an afterthought about 300m from the finish.
Harris rolled up the sprint, Ambrose followed but Eastman, a superior sprinter brought along Hinds with his draft and the pair was able to blow by the less experienced duo.
Before the signature event, there were 10 other races.
Here is a summary of them:
Boys and Girls 12-14
Davenand Kapilnauth, Daniel Perreira, Rakem Blair
Veterans Over 50
Linden Blackman
Vets Under 50
Junior Niles, Jaikarran Sukhai, Wilbert Benjamin
Veterans Over 60
Wilfred Thom
Juveniles
Jaleel Jackson, Romello Crawford, Jamal John
Mountain Bike
Seon Budhram, Troy Thomas
BMX Boys 6-9
Alex Leung, Shane Sue-Hang, Esau Jaisingh
BMX Boys 9-12
Sherwin Sampson, Jonathan Jagdeo
BMX Boys 12-14
Sherwin Sampson, Adeala Hodge, Thuran Garbarran
BMX Open
Mikhail Diaz
At the completion of the programme, brief remarks were made by coordinator, Hassan Mohamed and representatives of the sponsor.
The cycling season continues this morning with the Forbes Burnham Memorial two-stage road race. Today's event rolls off in Linden from 08:00hrs. (Emmerson Campbell)
Around the Web