On the back of recent sublime form, Orville Hinds was able to claim overall victory in the fifth annual Forbes Burnham Memorial two-stage road race on Sunday.
The Team Evolution standout placed second in both stages (Kara Kara to Homestretch Avenue and Liliendaal to Belfield and back) and his consistency was more than enough to propel him to the top of the podium.
Last year's winningest wheelsman started the final stage just three seconds behind virtual leader, Shaquel Agard but with the latter only managing to finish with the bunch and a seven-second bonus going to Hinds for being the stage's first runner up, (Alanzo Greaves won stage two) he turned his deficit into a three-second triumph.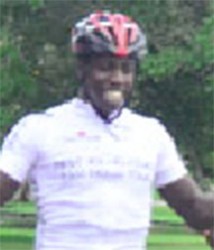 His overall winning time was three hours, 45 minutes and 54 seconds for the 92-mile trek.
Team Alanis' Paul DeNobrega was third overall while Michael Anthony, Akeem Arthur and Robin Persaud filled out the top six rewarding positions
Stage One Result
Shaquel Agard
Orville Hinds
Paul DeNobrega
Stage Two Result
Alanzo Greaves
Orville Hinds
Chris Holder
Overall
Orville Hinds 3hrs:45mins:54 seconds
Shaquel Agard 3hr: 45m: 57s
Paul DeNobrega 3hr: 46m: 00s
Michael Anthony 3hr: 46m: 01s
Akeem Arthur 3hr: 46:40s
Robin Persaud 3:46:41s
Around the Web