The 2015 cycling season continues today in the National Park with the staging of the 2nd annual Caribbean International Distributors Inc. (CIDI) 11-race programme.
According to organizer of the event, Hassan Mohamed, the day's activities is scheduled to pedal off at 09:00hrs. Mohamed added that the fixture which is sponsored under the Thrill soft drink brand, is geared towards attracting the cream of the nation's wheelsmen.
Incentives along with trophies will be rewarded to the top riders in each event.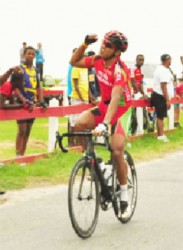 Mohamed also noted that a fiercely contested day of racing is anticipated since all the riders will be keen on taking pole position. Alanzo Greaves, Marlon Williams, Robin Persaud, Orville Hinds, Paul De Nobrega, Robin Persaud, Michael Anthony and Hamza Eastman are some of the big names that will be pedaling for the top honors in the feature 35-lap event.
Eastman took the top honors of last year's feature event in one hour, 18 minutes and three seconds but with the lineup scheduled to saddle up today, the Team Coco's standout will be hard pressed to repeat.
Other events that will roll off include: the 12 to 14 years boys and girls (3 laps), veterans over-50 years (5 laps), veterans over-60 years (5 laps), upright cyclists (5 laps), BMX boys open (3 laps), BMX boys 12 to 14 years (3 laps), BMX boys 9 to 12 years (3 laps) and BMX boys 6 to 9 years (3 laps).
The Juveniles along with the Veterans Under-50 races are slated to be keenly contested.
Junior Niles (Veterans Under-50) Jamal John (Boys 12-14) and Clyde Jacobs (Mountain Bikes) were the top bikers in their categories last year.
Sales and Marketing manager of CIDI, Alisha Katadeen-Singh is expected to be on hand to assist in the presentation of prizes to the top performers.
Around the Web