Team Evolution's Orville Hinds secured victory in the second leg of the Cheddi Jagan Memorial road race series yesterday in Berbice.
The 24-year-old won ahead of his breakaway mate, Alanzo Greaves (2014 winner) who patted him on the back after they cruised across the finish line at Port Mourant in the otherwise eventful road race.
Hinds and Greaves were part of the initial 14-man breakaway faction on the Number 19 road after 46 starters were sent on their way from New Amsterdam for the grueling 60-mile event.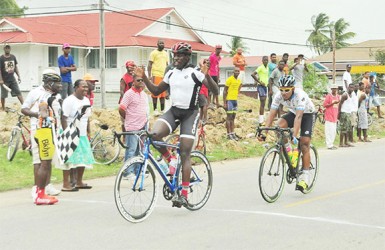 There were a series of attacks at Limlair, all the way to the turn back point at NO.63 Village. On their way back at Bengal, the rain came but the riders remained in attack mode. Several sets of wheelsmen tried to separate themselves from the main peloton but they were quickly wheeled in.
At Kildonan, however, Hinds, Greaves, Raynauth Jeffrey (3rd), Robin Persaud (4th) Hamza Eastman (5th) and Raul Leal (6th) broke away and the six-man strong unit never relinquished their lead.
With about three miles from the finish, a tireless Hinds however, launched a fierce solo attack on the exhausted riders. None but Greaves, who had to use every muscle fibre in his tired body, responded to Hinds' assault.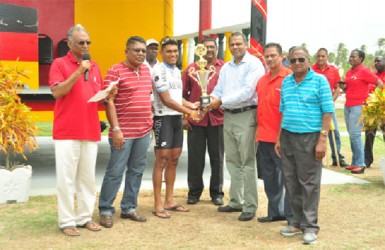 Hinds then went on to pace himself and Greaves, who stayed on his rear wheel for the remainder of the race at 30 kilometres to the hour.
The Team Evolution standout was rewarded for his heroics with the win as Greaves, a superior sprinter, stayed on his saddle to allow Hinds to record his second victory of the season in two hours, 38 minutes and 29 seconds.
Besides the winner's trophy, Hinds also pocketed a sprint prize as did Greaves and Alonzo Ambrose. Jeffrey and his Team Coco's club mate, Mark Harris took home two apiece.
Before and after the BK International Inc. sponsored-event, which is one of the activities to commemorate the life of the late president, the cyclists were congratulated by Minister of Sport, Dr. Frank Anthony, David Armogan (Regional Chairman of Region 6) Hydar Ali, Neil Kumar, Zulfikar Mustapha and Minister of Home Affairs, Clement Rohee.
During the prize giving ceremony, Greaves (last year's overall winner) was presented with a large trophy for his exploits.
The third and final leg will be staged in Essequibo on March 22. (Emmerson Campbell)
Around the Web