Lesha Singh, Baoxing liu and Abosaide Cadogan were early category winners when the Guyana Badminton Association Trophy Stall annual age group singles tournament commenced Saturday at the Queen's College Badminton Courts.
Player's from different schools around Georgetown participated in the Under-11, U13, U15 and U19 junior events.
The Under-11 Girls Singles was won by Singh with Reba Samlall second and Zarah Watson, third while the Under-11 boys singles was won by Liu with Ethan Bianchini and Abeva Jones second and third respectively.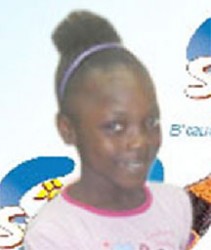 National player Cadogan won the Under-13 girls singles from Siya Persaud and Wonita Yang.
The tournament continues tomorrow at the Cliff Anderson Sports Hall from 5:00pm
Results of matches played so far
Under-19 Boys Singles Round 1:
Akili Haynes defeated Josh Odit: 21-10, 21-18
Under-19 Boys Singles Quarter-Finals:
Narayan Ramdhani defeated Akili Haynes: 21-10, 21-18
Jonathan Mangra Defeated Ransell Ramsaroop: 21-5, 21-14
Under-19 Boys Singles Semi-Finals:
Narayan Ramdhani defeated Hemraj Beharry: 21-12, 21-1
Jonathan Mangra defeated Tyreese Jeffrey: 21-10, 21-12
Under-19 Girls Singles Quarter-Finals:
Priyanna Ramdhani defeated Nyckelle Yearwood: 21-0, 21-4
Abosaide Cadogan defeated Andrea Bernard: 21-1, 21-2
Under-19 Girls Singles Semi-Finals:
Priyanna Ramdhani defeated Shonatta Lowe: 21-10, 21-5
Abosaide Cadogan defeated Amanda Daniels: 21-3, 21-6
Under-15 Boys Singles Semi-Finals:
Akili Haynes defeated Ransell Ramsaroop: 21-12, 21-5
Under-15 Girls Singles Quarter-Finals:
Siya Persaud defeated Selena Persaud: 21-8, 21-2
Under-15 Girls Singles Semi-Finals:
Priyanna Ramdhani defeated Cassia Lewis: 21-6, 21-7
Abosiade Cadogan defeated Siya Persaud: 21-9, 21-7
Under-13 Boys Singles Semi-Finals:
Baoxiang Liu defeated Etan Bianchini: 21-3
Under-13 Girls Singles Semi-Finals:
Abosaide Cadogan defeated Wonita Yang: 21-4
Siya Persaud defeated Priyanka Shivnauth: 21-3
Under-13 Girls Singles Finals:
Abosaide Cadogan defeated Siya Persaud: 21-12
Third Place went to Wonita Yang who defeated Priyanka Shivnauth: 21-17
Under-11 Boys Singles Semi-Finals:
Ethan Bianchini defeated Abeva Jones: 21-17
Baoxiang Liu defeated Narendra Singh: 21-2
Under-11 Boys Singles Finals:
Baoxiang Liu defeated Ethan Bianchini: 21-1
Third Place went to Abeva Jones who defeated Narendra Singh: 21-11
Under-11 Girls Singles Semi Finals:
Reba Ramlall defeated Zarah Watson: 21-9
Under-11 Girls Singles Finals:
Lesha Singh defeated Reba Ramlall: 21-14
Third place went to Zarah Watson
Around the Web