Basking in the euphoria of winning the West Indies Cricket Board's (WICB) Professional Cricket League four-day title with a match to spare the senior national cricket team known as the Guyana Jaguars yesterday departed for Dominica where they will oppose the Windward Islands in the final fixture of the tournament.
Prior to their departure however, Cricket Guyana Inc. (CGI) Executive Anand Sanasie, congratulated the team on winning Guyana's sixth regional four day title but urged the team to make winning a habit.
Sanasie pointed out although the title was already in the bag, the players should seek to maintain their dominance and wrap up the competition with a win against the home team who are a formidable side.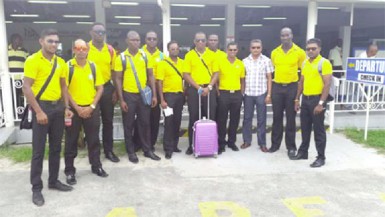 "Professional athletes and successful teams understand that winning must become a habit and this is what makes champions become legends," the Guyana Cricket Board secretary said yesterday to the players and staff. "Let your final match act as a catalyst for the next tournament as, upon your return and a short time off, you would begin preparation for the next season," he added.
The Guyana Jaguars lead the table with 130 points following their drawn match against the Trinidad & Tobago Red Force last weekend at the Providence National Stadium.
Guyana have a clear 22-points lead over the Barbados Pride who occupy second position while their next opponents Windward Islands Volcanoes sit on 106, Jamaica Franchise on 68, Trinidad and Tobago Red Force on 60 and Leeward Islands Hurricanes on 37.
Since a team can only score a maximum of 20 points in a game, Guyana Jaguars have basically won the competition going into the final round of matches.
When Stabroek Sports arrived at the Ogle International Airport yesterday, Sanasie, along with members of the side were engaged in brief talks with the GCB secretary warning the players about being complacent heading into the clash against the Windwards.
Although he lauded the Jags for their top performances throughout the competition, he still encouraged them to make winning a habit.
The team's mood prior to departure was of joy as the players waited to board the plane to Dominica. Upon their return, the team will take some much needed rest as CGI and the GCB plan and structure a way forward with the Caribbean Premier League (CPL) and the senior Inter-county tournament around the bend.
Around the Web