Score's Even proved once again yesterday why it is Guyana's premier thoroughbred.
The eight-year old grey gelding galloped to a gate to pole victory in the feature A and Lower event at the Port Mourant Turf Club beating CP Got Even by about four lengths.
The pre-race hype for the event dubbed 'The Clash of the Titans' trampled the competition the 'Big Grey' got throughout most of the eight furlong event.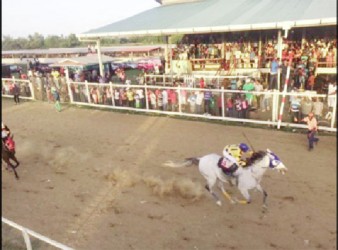 This one was over early. In a scorching 1m: 54:53s to be exact.
Sent off as the betting favourite, Score's Even starting from the fourth post set a blistering pace straight out of the gates.
Despite fetching an eye popping 136 pounds, the Dennis Deoroop owned steed already had a two-length lead at the half mile pole.
The day's champion jockey, Rad Drepaul then allowed the powerful steed to cruise on the far turn as the pair of Dark Brown Mares, CP Got Even and Treacle fetching 108 pounds each gained ground.
The short lived theatrics sent the packed turf club into a frenzy.
However, with a flick of Drepaul's whip, the 1000-pound race horse then drew off in the homestretch to seal the comprehensive win which was worth an appetizing $1.2M.
It was the second win in as many starts for the Simply Royal Stables product.
CP Got Even, a Guyana Cup winner trotted off with half the winner's purse.
Last year's winningest horse, Treacle (seven wins) was third on a beautiful day in the six-horse field.
Meet Summary
Race 1 (J3 and Lower)
Red Jet ($200,000)
Secret Escape
Speed Vision
Regina
Race 2 G3 Maiden and H and Lower
Chelsea ($300,000)
Today is My Lucky Day
Super Bowl
Red Cloud
Race 3 Three Year Old W.I Bred
Maryann ($300,000)
Slim Shady
Part Time
Amazon Warrior
Race 4 Three Year Old & WI Bred
Storm Bird ($400,000)
It's My Choice
Settling Star
Midnight Blue
Race 5 D3 Maiden & WI Bred
Swing Easy ($400,000)
Jack In My Style
Goodwill Boy
Unsettled
Race 6 (G1 and Lower)
Quiet Dancer ($320,000)
Appealing Harvest
Cassie
Joyful Victory
The 'Sport of Kings' continues on Easter Sunday at the same venue. (Emmerson Campbell)
Around the Web