Guyana will play two matches tomorrow when they open their campaign for honours in the 2015 HSBC Sevens World Series Qualifiers in Hong Kong.
The Guyanese are in Group G and will play Zimbabwe at 1pm tomorrow in their opening Group G encounter before taking on Spain approximately one and a half hours later.
Their final group game will be against Tonga at 9am on Saturday.
Hong Kong is approximately 12 hours ahead of Guyana.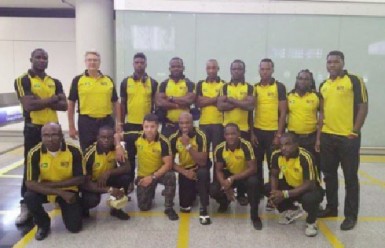 Meanwhile the national men's rugby team touched down in Hong Kong on Tuesday on their quest to create upsets and possibly become a core team.
Dubbed the 'Green Machine', the rugby outfit is one of 12 qualifier teams along with 16 core teams that will be competing for honors at the prestigious Cathay Pacific/HSBC 7s tournament.
This year's tournament is extra special as it marks the Hong Kong Rugby Football Union's commemorations of 40 Years of Sevens in Hong Kong.
Seeded 27th, Guyana, the NACRA Sevens champions along with runner up, Mexico qualified to represent NACRA at the championships in Hong Kong.
The squad reads: Ryan Gonsalves (C), Claudius Butts, Richard Staglon, Ronald Mayers, Patrick King, Peabo Hamilton, Kevin McKenzie, Avery Corbin, Lancelot Adonis, Dwayne Schroeder, Rickford Cummings and Vallon Adams.
The officials are Angus Thomson (TD and Manager), Theo Henry (Head Coach) and Barry Brown (Strength and Conditioning Coach and Physio)
The championships which is firmly established as the world's premier event of its kind and one of the most popular annual sporting events in Asia is far superior to NACRA and the 'Green Machine' will have to play in robot mode in every game to acquire core status.
Around the Web