Well-known and well-liked sports administrator Shanomae Blackmore, who died last week, was laid to rest yesterday following a funeral ceremony attended by the who's who of sports and sports administrators in Guyana.
Blackmore, daughter of former Athletics Association of Guyana (AAG) president, Claude Blackmore, died last Wednesday after a brief period of illness. She was 34.
Blackmore served as secretary of the Athletic Association of Guyana (AAG) and also performed secretarial duties at the GOA Office, High Street, Kingston.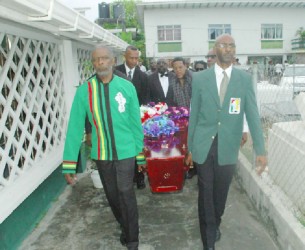 "Despite her youth, history will know her as a true disciple of the Olympic faith," said former General Secretary of the GOA and former Director of Sport, Ivor O' Brien.
Now an Honorary Life member of the GOA, O'Brien said Blackmore's death came as a great shock.
"I received the message of Shanomae's death via a telephone call. It was indeed a shocker." O'Brien said.
According to O'Brien, the late Shanomae Blackmore was well respected by all who knew her.
"As I followed the emails of condolence that flooded the system, Shanomae was described as friendly, helpful, pleasant, full of life, amazing, compassionate, an asset to the sports fraternity and hardworking, among others. To those, I will add ambitious and efficient. Shanomae was at all times an effervescent and intelligent person. She applied herself assiduously to her duties, and always willing to work long and punishing hours without supervision or complaint. Fortitude and determination were essential ingredients of her character," said O'Brien.
President of the AAG Aubrey Hutson said he received condolences from several officials from international sports bodies including condolences from the International Amateur Athletic Association (IAAF).
"Her death has truly had an impact on us. I can only hope that we can find someone who can fit her shoes to replace her," added Hutson.
"As president I never hoped that this would be one of the duties I would have to perform. Myself and the rest of the athletics community, from the president of the IAAF to the athletes have really felt this lost. Shanomae truly touched everyone's lives. "
The eulogy for Shanomae Blackmore was done by her brother Anthony Blackmore and her Godsister Kriz Glasgow while the service was performed by Canon Semple.
The funeral ceremony for the late Shanomae Nichola Blackmore took place at the St. James the Less Anglican Church, David Street, Kitty.
Around the Web