Senior Guyana Jaguars batsman Shivnarine Chanderpaul heaped praise on his young teammates for their performance which allowed Guyana to capture its seventh West Indies Cricket Board (WICB) Regional four-day title, after a 17-year drought.
Minutes after an elated Guyana team landed on Wednesday after mauling five regional territories in this season's tournament, the 40-year-old West Indies batting legend hailed his teammates for their commitment, performance and dominance. "It's obviously exciting for all of us, it's a big victory for us considering what happened last year and this year everyone was able to pull their weight. Credit goes to the two guys who broke the bowling record this year, Veerasammy Permaul who broke it first and Davendra Bishoo second, because without those two guys bowling we would not have won the tournament and they are the ones who won the tournament for us," Chanderpaul said in an exclusive interview with Stabroek Sport.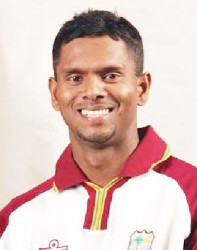 Not shying away from the Guyanese batsmen who have been weighing in with hundreds of runs throughout the season, the left-hander applauded his fellow batsmen who evenly supported the bowlers. "The batters stood out they made runs which is what we need to do as batters and once the runs was on the board those two guys (Bishoo and Permaul) [did] the job for us," he said.
The two spinners combined ended with 128 wickets and were instrumental in Guyana's romp to the 2014/15 title. They were rewarded for their efforts with recalls to the West Indies Test side for the upcoming series against the touring England which bowls off next month.
Apart from the attack launched by the Jags throughout the Regional season, bowling out every team they played twice while either setting big scores or defending them, Chanderpaul further credited his teammates particularly the younger ones, for their maturity. "Well that's what happens when you have senior players around it helps the younger fellows and gives them the self-belief to go out and get their jobs done," he said.
Chanderpaul said he will now focus on the upcoming West Indies/England series and the third edition of the Caribbean Premier League (CPL) T20 competition.
The stalwart batsman who scored his 71st First-Class century against the Windward Islands and made it to the last round said, "Well first of all we have a camp in Antigua. That's the next move for me, then England will be there. The focus is now getting ready for the camp then England," he said.
Around the Web