New York (SMS) —The acronym 'CG' could be for 'commendations' and 'gratitude', but for Cassey George, it was also a quirky similarity of her initials to those of the title of Guyana's top diplomat in New York City.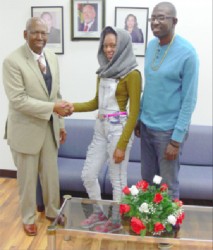 Constantly hearing the term 'CG' in the Consulate General's office in Manhattan widened the pupils of the young feline-eyed track star last Friday when she paid a courtesy call on Consul General Brentnol Evans. "Are they calling me? I keep hearing them people saying 'CG', 'CG'," George sounded out.
Her remark awed Evans. "Oh! That's very observant, young lady," he rejoined. "That's how they sometimes call me. We have some similarities, there." And, the parallels bore out for the two Linden-bred hi-flyers. "It's amazing. But, you are the one worthy of honor here," said CG – the diplomat to CG – the athlete, later.
George and her coach Moses Pantlitz, made the early afternoon visit during a short lull in their two-week maiden stay in the Big Apple.
The pop-in came a few days after George ran the Girls 800m and mile races at the 2015 New Balance Indoor Nationals (scholastic track and field championships) in New York. The 16-year old had created history being the first locally-based runner to compete at the top-hilt American meet for high schools athletes.
George finished the grueling events; albeit, with less than favourable times and placings, and had tough encounters with her respiratory system afterwards. Hearing she recovered admirably, a delighted Evans lauded their attendance and said, "you have to be sensitized and prepared as the degree of your competition rises." He assured George, who competed as a 'Wismar-Christiansburg Track Club' runner, that she is "setting a strong standard for other young Guyanese to emulate".
Hearing of George's prodigious track career, and recent honor of being a double-category Sports-
woman of the Year, Evans stretched his counsel. "In a part of your soul lies a teaching master; all you have to do is wake it, and then you're going places. This youngster has been able to do so at an early age, while a lot of people go through life without waking it. Miss George, this achievement is absolutely stunning. There's an inner force that pushes you and you will reap the glory".
"What she's doing is not easy at this age," the envoy noted. "Am really happy and proud of you. I want to congratulate you on your achievements and encourage you to stay focused to attain the bigger prizes," he said after also hearing of her looming lopes to replicate gold medal feats at this week's Carifta Games.
Evans asked about support from the various facets of the Guyanese society, to which Pantlitz gave mixed reviews. Nonetheless, the Guyanese diplomat praised the commitment coming from the coach, himself, as well as George's family.
Observing George's coyness, he implore her to be a trailblazer like Jamaica's first Olympic champion Arthur Wint who "put his country on the map" not only as an athlete, but also as a pilot, doctor and a diplomat (high commissioner). "In your field there will always be opportunity, challenge and competition. You have the talent, take time to study and read a lot," Evans told George, adding that she needs to harmonize her sports prowess with academic success.
Evans specifically told the coach to persuade his other charges to these vital traits to all-round personal growth. "A lot of youngsters don't take time to read these days". He pitched books by Charles Dickens, David Copperfield and other writers whose plotlines "tend to inspire the young and challenged to improve their circumstances".
Later, George and Pantlitz lunched with Evans at a chic bistro in mid-town Manhattan. In the evening, the sports duo were invited guests at an elegant fund-raising event for the A Partnership for National Unity and Alliance For Change (APNU-AFC) coalition, that was held at Brooklyn's Woodbine social club.
Around the Web