CP Got Even won the feature A and Lower 1800M event of yesterday's Guyana Cup Fever denying the favoured Score's Even in the nation's biggest race meet so far for the season. 
Score's Even, Guyana's premier thoroughbred was coming off an impressive two-race winning streak, but it came to a stunning end at the overflowing Port Mourant Turf Club.
For CP Got Even and jockey Paul Delph, the race unravelled in an almost faultless manner. 
Delph jumped the Colin Elcock trained steed smart out of the gates, positioning her on the heels of early pacesetters Score's Even and Curfew Tower who took the seven-horse field along at a generous gallop.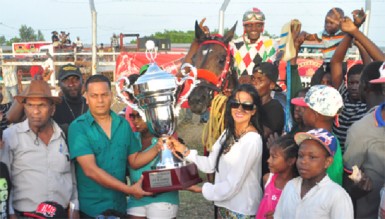 There he stayed until jockey, Stephen (only name given) on the newly imported Diplomatic Cat made a bold move on the third turn, sweeping up Jack In My Style in the process.
As the five front runners entered the home stretch to a loud roar of the thousands of turfites, it looked as though the race would be decided by a photo finish.
But under a strong Delph drive, the Dark Bay Mare under the fading light, dismissed its rivals with the cold authoritative swat of a devastating finishing kick to win by about three lengths. 
Score's Even, the grey gelding from the Simply Royal Stables who fetched 136 pounds faded to fifth. Jack In My Style galloped to second followed by Diplomatic Cat and Curfew Tower who also faded on the homestretch. 
CP Got Even, owned by the R.N Poonai Stables, ran the nine furlong event in a scorching 2m:07:74s to pocket the appetizing $1.2M first prize. 
Before the feature event there were six other races. 
Here is the summary:
Race 1 J2 and Lower (1000M)
Secret Escape ($250,000)
Affinity
Red Jet
De Gump
Race 2 G3 and Lower (1200M)
Release De Beast ($400,000)
Bridle Stone Corner
Camprador
Princess Alisha
Race 3 D3 Maiden & Four Years Open (1500M)
Spit Fire ($800,000)
Goodwill Boy
Captain Crook
Unsettled
Race 4 3Year Old West Indian (1500M)
Keep On Swinging ($500,000)
Settling Star
It's My Choice
Chelsea
Race 5 3 Year Old Bred and I and Lower (1200M)
Royal Cash ($300,000)
Cat Massiah
Mary Anne
Lady Secret
Race 6 G1 and Lower (1200M)
Appealing Harvest ($500,000)
Sent From Above
Camprador 
Cassie 
The champion jockey was Badree (only name given) while the Jumbo Jet Racing Stables took home the best stable award. 
In excess of $10M in cash and stakes were awarded yesterday. 
 Minister of Finance, Ashni Singh was a special guest at the event. 
 Some major sponsors included Jumbo Jet Auto Sales, Banks DIH Limited and the Trophy Stall. (Emmerson Campbell)
Around the Web