The wait has whittled to just four days for first time competing bodybuilders eager to don their posing trunks and showcase their chiseled physiques.
It has been confirmed that Saturday is set in stone for the Guyana Amateur Bodybuilding and Fitness Federation (GABBFF) annual Novices Championship.
Scheduled for a 19:00hrs start at the Theatre Guild, musclemen and women outfitted with rippling abdominals, well defined quadriceps, sculpted arms, stilettos and bikinis will be on display as they battle for supremacy.
For the first time on the Novices stage, the Men's Physique segment will be contested along with the customary bodybuilding categories, Ms. Bikini and Ms. Body Fitness categories.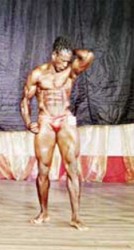 This year's event promises to be of a higher standard since many of the athletes have been through months of grueling contest prep.
When interviewed, the gladiators promised to bring their 'A' game to the stage.
A thrilling night is envisioned.
The athletes will be placed in the customary categories, namely: under 21-years, flyweight, bantamweight, lightweight, welterweight, light middleweight and heavyweight along with the two categories for the women.
For the Ms. Bikini Contest, judges will analyze body shape, tone, symmetry, complexion, poise, presentation and overall condition. Also, they will be looking for a fit, toned feminine body that display proper conditioning. Contestants will be judged individually and in group comparisons. 
The show will also feature last year's Novices champion, Sylvester Andrews. He will be the special guest poser for the night.
According to Treasurer of the federation, Moressa Oscar yesterday, "there will be 30 plus males and females on the stage."
Admission to the venue will cost $1500. 
Fitness Express and Cyrex Gym are the notable sponsors for the event.
(Emmerson Campbell)
Around the Web