BASSETERRE, St Kitts, CMC – Pint-sized Barbadian Mary Fraser snatched her third gold medal of the weekend to earn the coveted Austin Sealy Award for the most outstanding athlete while compatriot Mario Burke completed the sprint double, as the 44th CARIFTA Games climaxed here Monday.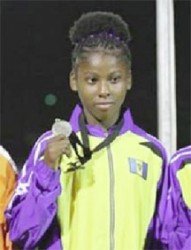 However, the duo were forced to share the headlines with the outstanding Jamaicans who made a clean sweep of the distance relays and captured three of the four sprint hurdles events, to end on top the medal standings for yet another year.
Overall, they claimed 85 medals – four short of last year's tally – with 41 gold, 25 silver and 19 bronze.
The Bahamas finished second in the medal standings with 31 overall, taking eight gold, 13 silver and ten bronze.
Barbados, meanwhile, powered by the amazing Fraser and speedy Burke, captured 16 medals overall with seven gold, four silver and five bronze.
Trinidad and Tobago, lifted by gold medals in the 200 metres on Monday by Kayelle Clarke in the girls Under-20 and Akanni Hislop in the boys Under-18, finished with 22 medals – six gold, eight silver and eight bronze.
Hosts St Kitts and Nevis enjoyed their most successful CARIFTA Games ever, picking up one gold, two silver and six bronze.
Fraser, with gold medals in the girls Under-18 1500 metres and the 3000 metres, entered Monday's 800m seeking a third and did not disappoint.
She produced a career-best time of two minutes, 11.63 seconds to cross the line first ahead of Jamaican Chrissani May who finished second in 2:13.28.
St Kitts' Reanda Richards claimed bronze in 2:14.48.
With her clinching of the Austin Sealy Award, she became the second Barbadian in as many years to win the honour, following Akela Jones' success last year.
Burke, too, kept Barbados in the news, when he streaked to victory in the boys Under-20 200 metres, to add to his 100m triumph on Saturday.
He clocked 21.51 seconds to outrun Vincentian Reuberth Boyde who clocked 21.70 for silver, and Kittitian Warren Hazel who was good for bronze in 21.81.
T&T also found their feet in the half-lap with Clarke and Hislop posting impressive victories.
Clarke successfully defended the title she won last year in Martinique, racing to 23.12 seconds to beat Jamaica's Saqukine Cameron (23.32) into second and Bahamian Keianna Albury (23.49) into third.
Hislop, meanwhile, clocked 20.91 seconds, with Bahamian Javan Martin – who took bronze last year – finishing second in 21.16. Jamaican Xavior Angus earned bronze in 21.17.
In the sprint hurdles, World Youth champion Jaheel Hyde of Jamaica, won his second gold medal in as many days, cruising to victory in the boys Under-20 event in 13.36 seconds.
Bahamian Xavier Coakley kept Hyde honest with silver in 13.51 seconds, while Seanie Selvin of Jamaica took bronze in 13.57.
In the girls Under-18 race, Janeek Brown reset her own record from last year, winning in 13.29 seconds to better her 13.48.
Jamaica's third sprint hurdles triumph came in the girls Under-20, when Yanique Thompson (13.21) led a one-two, with Jeanine Williams finishing with silver in 13.40.
Bahamian Tavonte Mott denied Jamaica a fourth medal in the boys Under-18, streaking down the middle of the track to out-lean Jamaican Jordan Roberts at the line in a record time of 13.1 seconds.
Jamaica's dominance of the relays was headlined by the boys Under-18 team of Leonardo Ledgister, Devaughn Ellington, Jauavney James and Christopher Taylor, who clocked 3:12.07 to erase their one-year-old mark of 3:12.63
Around the Web