Raj Singh Insurance Brokers has lent its support to the Guyana Cricket Board (GCB) for the 2015 Under-19 Inter-County 3-Day Competition which bowls off today.
According to a press release from the GCB which reached this publication yesterday afternoon, the insurance company has partnered with the GCB over the years for various competitions and is proud to be associated with the U-19 age group this year.
This year's U-19 3-Day and 50-Over Competitions will see a selected Guyana U-17 squad competing as the fourth team. This move is to prepare the players for the regional U-17 Competition. The GCB believes the U17's involvement will boost their mental strength and give them a lot of confidence.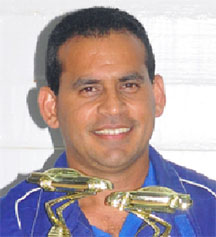 The first round of the 3-Day contest is from today to Thursday with Berbice and the Guyana U-17 in action at the Wales Community Centre ground, and Demerara and Essequibo at the Everest cricket Club ground. The second round will be from April 12 -14 with Demerara and Berbice clashing at the Georgetown Cricket Club ground and Essequibo and Guyana U-17s clashing at the Demerara Cricket Club ground. The third round takes place from April 16 – 18 with Guyana U-17s taking on Demerara at the Everest Cricket Club ground, and Essequibo taking on Berbice at the Enmore Community Centre ground.
Also, during the competition, former West Indies player, Alvin Kallicharran, will visit the various venues to assist the coaches with the players.
Kallicharran is in Guyana to work mainly with the Under-15s and the Under-17s and will travel around the country to conduct special clinics at various locations with the main objective being to motivate and galvanize the youths back towards the game of cricket.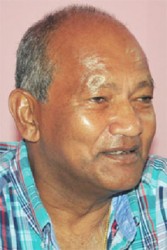 The teams competing read: Berbice: Balchand Baldeo (Captain), Leon Andrews , Ritesh Omrao (wicket keeper), Samuel Kistasammy, Brandon Persaud , Kassim Khan , Daniel Lewis, Joel Seetaram , Ameer Khan, Omar Weatherspoon , Grisean Grant , Parmanand Ramdhan , Clifton Lindie, and Zachary Persaud. The Manager is Julian Cambridge and the Coach is Adrian Amsterdam.
Demerara: Travis Persaud (Captain), Ronaldo Renee, Malcom Hubbard, Akshaya Persaud, Sherfane Rutherford, Tevin Imlack, Carlton Jacques, Gavin Moriah (V. Captain), Ershad Alli, Vivian Albert, Daniel Basdeo, Tariq Dharamlall, Mark Hamilton, and Chetnarine Pooran. The Manager is Latchman Yadram and the Coach is Trevon Garraway.
Guyana U-17 squad: Raymond Perez, Joshua Persaud, Adrian Sukwah (vice-captain), Ramnarine Chatura, Bhaskar Yadram, Kevin Sinclair, Richie Looknauth, Ronaldo Alimohamed (captain), Timothy McAlmont, Steve Deonarine, Ashmead Nedd, Joshua Jones, Sylus Tyndall, Asif Ally, Sagar Hatheramani, Romain Muniram, and Tameshwar Motieram. The Manager is Nazeer Mohammed and the Coach is Garvin Nedd.
Essequibo: Nathan Persaud, Parmesh Parsotam (v. captain), Travis Drakes (captain), Jadewnel Hartman, Neiland Cadogan, Jonathan Fernandes, Keanu Harry, Denzil Harry, Akinie Adams, Sachin Persaud, Looknauth Khinkoo, Mahendra Mahase, Satesh Latchana, and David Williams. The Manager is Harvey Gobin and the Coach is Vibert Johnson.
Around the Web