The last time the national 15s rugby team faced Trinidad and Tobago on their home turf, they were schooled 20-nil at the University of the West Indies (UWI) Campus ground.
Guyana's ruggers will once again tackle with their twin island rivals on Saturday in the Southern Zone final of the NACRA 15s championships and president of the Guyana Rugby Football Union, (GRFU), Peter Green is confident of a role reversal.
"The team is not going on a weekend vacation, they are tasked with going over there to win and I am confident they will get the job done" Green said yesterday while watching the team practice at the National Park.
The GRFU head added "The last time we played them, they were on their home ground, they had that psychological advantage but right now this team has settled down to the title of being champions and right now they don't intend to give it up."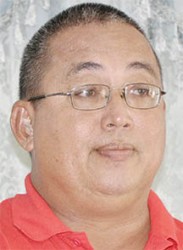 Guyana will face Trinidad and Tobago at the Fatima College Ground in Port of Spain.
According to Green, the venue is more suited for the 'Green Machine' which has been indestructible regionally in the last year in both formats of the game.
"Trinidad is always hard to beat at home, but we made sure this time that the ground that we picked is similar in size to this ground (the National Park rugby field) so I am confident that my boys will bring home the bacon."
Once Guyana's most successful outdoor sports team in the past decade is indeed victorious on Saturday, they will play the winner of the Northern Zone for the overall NACRA 15s title in a home game on April 25.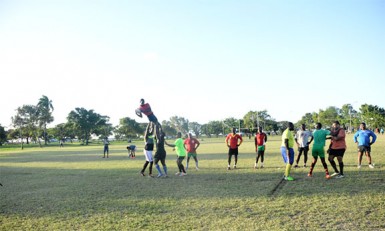 The 'Green Machine' started their title defense last month at the National Park by routing Barbados 48-22.
Guyana's 23 man squad reads: Ryan Gonsalves Claudius Butts, Avery Corbin, Rickford Cummings, Rondell Mc Arthur, Vallon Adams, Kevin McKenzie, Theodore Henry, Richard Staglon, Jason Tyrell, Dwayne Schroeder,  Peabo Hamilton, Lancelot Adonis, Leon Greaves, Jamal Angus, Jermaine Prowell, Blaise Bailey, Ronald Mayers, Randy James, Jacques Archibald, Troy Arjoon, Kevon David and Delroy Gordon.
The team departs tomorrow and returns on Sunday. (Emmerson Campbell)
Around the Web