The Guyana Amateur Basketball Federation (GABF) has officially shortlisted the male and female practice squads for the upcoming 2015 Caribbean Basketball Confederation (CBC) Championships in the British Virgin Islands from June 16th-20th.
According to an official press release, the male squad, which will be under the watchful eyes of Darcel Harris consists of Randy Richardson, Neil Wills, Kevin Emanuel, Denyson Fraser, Akeem Kanhai, Terron Welch, Neil Marks, Amoniki Archibald, Shane Webster, Chris Williams, Harold Adams, Keon Cameron, Stephan Tappin, Dwight McKinnon, Dominic Vincente, Travis Burnette, Ryan Stephney, Nikolai Smith, Jason Squires, Rodwell Fortune, Stefon Gillis, Tyrone Hamid, Ryan Gullen, Royston Siland, Jermaine Slater, Rudy James, Kurt Elias, Drumson McCulley, Fabian Johnson, Dave Causway and Shelroy Thomas.
The female squad, which will be under the tutelage of Julian Haynes, comprises Kristy Roberts, Natasha Andrews, Kean Andrews, Timike Joseph-De Rouche, Lowquantor Gibson, Aleea Caesar, Sheeneeza Atwell, Natoila Primo, Amera Alphonso, Ginelle Ifill, Shenne Subrattie, Renika Prince, Jenessa Waithe, Kemika France, Suripa Swamy, Rhonda Fraser, Althea Mingo, Sonia Rodney, Tamara Hunter, Latoya Rodney, Necosia Mitchell, Kenesha Leacock, Jenelle Belle, Shanna Chester and Nichola Jacobs.
"Both squads will be boosted during the training sessions with the addition of overseas-based players, who will be coming to Guyana to try out for selection on the respective Guyana National Basketball Teams," a release from the GABF stated.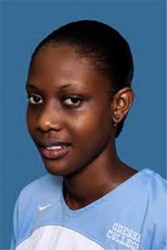 Among those coming home and joining the squad will be Ginelle Ifill, who is currently on a basketball scholarship at Odessa College in Texas, USA. Practice sessions are currently underway at the Cliff Anderson Sports Hall on Tuesdays and Thursdays from 19:00 hours to 23:00 hours and on Sundays from 08:00 hours to 12:00 hours, the release added.
Around the Web