NAGPUR, India, (Reuters) – India need eight wickets to clinch the four-test series against South Africa after their spinners, led by Ravichandran Ashwin, wreaked havoc on a turning track on the second day of the third test yesterday.
Shot out for 79 in their first innings earlier in the day, South Africa returned to chase a 310-run victory target on a manic day when 20 wickets tumbled on a fast-deteriorating surface at the VCA Stadium.
The tourists, who trail the four-test series 1-0, were 32-2 at stumps, having lost opener Stiaan van Zyl and nightwatchman Imran Tahir, and facing an embarrassing defeat inside three days.
Dean Elgar (10) and captain Hashim Amla (three) were unbeaten at the crease.
Off-spinner Ashwin completed his 14th five-wicket haul in tests while left-arm spinner Ravindra Jadeja bagged four as India, who made 215 after batting first, skittled out South Africa for 79 to put India firmly in command.
Legspinner Imran Tahir picked up his second five-wicket haul to spearhead South Africa's fightback as India were all out for 173 in their second innings.
Opening batsman Shikhar Dhawan (39) added 44 for the second wicket with Cheteshwar Pujara (31) and another 45 with captain Virat Kohli (16) to keep South Africa at bay before Tahir wrecked the Indian top order.
Amla surprisingly kept the 36-year-old spinner off the attack till the 24th over but it did not take long for Tahir to strike.
After a quiet first over, he went on to dismiss Dhawan, Kohli and Ajinkya Rahane (nine) to reduce India to 108-5.
He also dismissed Wriddhiman Saha and Amit Mishra to complete his five-wicket haul. Fast bowler Morne Morkel gave him able support by picking up three wickets.
LOWEST AGAINST INDIA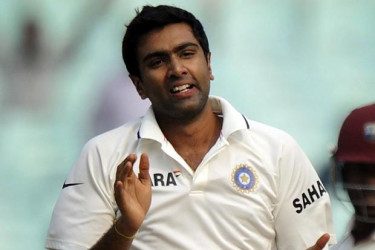 Earlier, South Africa managed the lowest test total by a visiting side in India, beating the previous mark of 82 posted by Sri Lanka in 1990 at Chandigarh.
The touring batsmen appeared clueless against the accuracy of Ashwin and Jadeja on a pitch offering variable pace and bounce for the bowlers.
Opening batsman Elgar (seven) fell in the first over of the day to Ashwin and was quickly joined in the dressing room by Amla (one) and AB de Villiers (nought).
Faf du Plessis (10) was the first South Africa batsman to reach double figures and, along with JP Duminy (35), ensured that the team went past their lowest test score of 30.
Legspinner Amit Mishra dismissed Duminy, the top scorer for the touring side, who resumed the day on 11-2.
India, who won the opening test in Mohali before the second match was washed out due to rain in Bangalore, looked poised to take an unassailable 2-0 lead in the four-test series after losing the preceding one-day international and Twenty20 series.
Scoreboard
India 1st innings 215 (S. Harmer 4-78) South Africa 1st innings (Overnight: 11-2)
D. Elgar b Ashwin                                     7
S. van Zyl c Rahane b Ashwin             0
I. Tahir b Jadeja                                      4
H. Amla c Rahane b Ashwin               1
A. de Villiers c&b Jadeja                      0
F. du Plessis b Jadeja                           10
J. Duminy lbw b Mishra                      35
D. Vilas b Jadeja                                     1
S. Harmer b Ashwin                              13
K. Rabada not out                                  6
M. Morkel c&b Ashwin                        1
Extras (lb-1)                                              1
Total (all out, 33.1 overs)                 79
Fall of wickets: 1-4 S. van Zyl,2-9 I. Tahir,3-11 D. Elgar,4-12 H. Amla,5-12 A. de Villiers,6-35 F. du Plessis,7-47 D. Vilas,8-66 S. Harmer,9-76 J. Duminy,10-79 M. Morkel Bowling I. Sharma 2 – 1 – 4 – 0 R. Ashwin 16.1 – 6 – 32 – 5 R. Jadeja 12 – 3 – 33 – 4 A. Mishra 3 – 0 – 9 – 1
India 2nd innings
M. Vijay c Amla b M. Morkel             5
S. Dhawan c Vilas b Tahir                  39
C. Pujara b Duminy                              31
V. Kohli c du Plessis b Tahir            16
A. Rahane c Duminy b Tahir             9
Ro. Sharma c Elgar b M. Morkel   23
W. Saha c Amla b Tahir                     7
R. Jadeja b Harmer                              5
R. Ashwin lbw b M. Morkel             7
A. Mishra b Tahir                                14
I. Sharma not out                                1
Extras (b-8 lb-5 nb-3)                        16
Total (all out, 46.3 overs)             173
Fall of wickets: 1-8 M. Vijay,2-52 C. Pujara,3-97 S. Dhawan,4-102 V. Kohli,5-108 A. Rahane,6-122 W. Saha,7-128 R. Jadeja,8-150 R. Ashwin,9-171 Ro. Sharma,10-173 A. Mishra Bowling M. Morkel 10 – 5 – 19 – 3 S. Harmer 18 – 3 – 64 – 1 K. Rabada 5 – 1 – 15 – 0(nb-1) J. Duminy 2 – 0 – 24 – 1(nb-1) I. Tahir 11.3 – 2 – 38 – 5(nb-1)
South Africa 2nd innings (Target: 310 runs)
D. Elgar not out                                         10
S. van Zyl c Ro. Sharma b Ashwin     5
I. Tahir b Mishra                                      8
H. Amla not out                                        3
Extras (b-4 lb-1 nb-1)                              6
Total (for 2 wickets, 14 overs)         32
Fall of wickets: 1-17 S. van Zyl,2-29 I. Tahir
To bat: F. du Plessis, A. de Villiers, J. Duminy, D. Vilas, K. Rabada, S. Harmer, M. Morkel Bowling I. Sharma 3 – 1 – 6 – 0(nb-1) R. Ashwin 6 – 2 – 12 – 1 R. Jadeja 4 – 2 – 6 – 0 A. Mishra 1 – 0 – 3 – 1
Referees Umpire: Ian Gould
Umpire: Bruce Oxenford
TV umpire: Anil Chaudhary
Match referee: Jeff Crowe
Around the Web