The Guyana Football Federation (GFF) commenced its first day of closed door tryouts at the National Gymnasium on Mandela Avenue on Wednesday in an effort to short-list a Futsal Squad for the upcoming Caribbean Football Union (CFU) tourney.
According to a press release from the GFF "Under the guidance of Technical Director Claude Bolton and former National Coach Denzil Thompson, the Guyana Football Federation (GFF) held its first day of try-out for the National Futsal Team".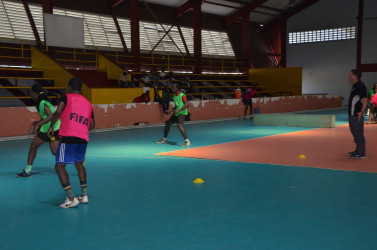 The document further said "Guyana will participate at the January 22 – 26 Caribbean Football Union (CFU) Futsal Tournament in Cuba and some of the top Futsal players who were shortlisted by the GFF, converged at the National Gymnasium where they will be evaluated by the GFF's technical team".
It continued "The trial which will conclude on Saturday will see successful participants being asked to join a minicamp in the first part of January where the final selection will be made. Guyana will be placed in Group 'A' with Trinidad and Tobago, Antigua and Barbuda and Haiti, while in Group 'B', host Cuba will be joined by St Maarten, Costa Rica and Guadeloupe".
The release noted "The top two teams from the Caribbean Football Union (CFU) tournament will advance to the CONCACAF Futsal Championship. The 2016 CONCACAF Futsal Championship will be held in Costa Rica in May".
According to the document "Same as previous editions, the tournament acts as the CONCACAF qualifiers for the FIFA Futsal World Cup. The top four teams of the tournament will qualify for the 2016 FIFA Futsal World Cup in Colombia as the CONCACAF representatives".
"Guyana last participated at the CFU Futsal Tournament in 2008, finishing fourth behind winners and host Trinidad and Tobago, Haiti (second place) and Suriname (third place)" the document concluded.
Around the Web