Captain Vishal Persaud's all-round performance took Saraswati Primary to a five-wicket victory over Cornelia Ida Primary as they were crowned champions of the West Coast Demerara Zone in the GCB/Scotiabank Kiddy Progression One Cricket.
Played at the Zeeburg ground, Cornelia Ida Primary were restricted to 91-7 from 14 overs with Jodesh Dookie scoring 23 including one four and a six. During his spell of bowling for Saraswati Primary Vishal Persaud picked up two wickets. He also scored 28 as his side cruised to 95-5, completing their win in the 12th over.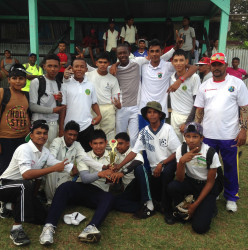 In the GCB National Secondary School Cricket League (NSSCL) tournament, Uitvlugt Secondary defeated Leonora Secondary to win the West Coast Demerara Zone in their match at the Zeeburg ground.
Batting first, Leonora Secondary were bundled out for just 94 in 25 overs with Sachin Basdeo's 31 the highest score recorded in their innings. Bowling for Uitvlugt Secondary, Reaz Khan snared 4-16 and Rendell Reddy grabbed 3-12. In reply, they raced to their target with four wickets in hand and nine overs to spare. Dodi Oselmo scored 23 while Chandrapaul Mohabir supported with 21. Bowling for Leonora Secondary, Moen Khan took 3-22.
Around the Web