A theatrical performance with two plays is to be staged at the National Cultural Centre on Saturday, January 17. This is the double bill of Demerara Gold and Pandora's Box which brings together two different theatrical experiences, but combines the might of an established international professional and a company of recently trained new entrants in professional theatre.
The launching of a new performing outfit, the National Drama Company of Guyana made up of graduates of the National School of Theatre Arts and Drama (NSTAD), takes place with this production. This company, an outreach of the NSTAD and theatre training in Guyana, recalls the existence of a National Dance Company, an elite group of trained dancers, and advances the vision for trained professionals in theatre a step further. In addition to the launching of the company, is the exhibition from the international professional theatre by a visiting production on tour which shows something of a destination the former NSTAD students can strive to reach.
Demerara Gold by Ingrid Griffith is a visiting Off-Broadway production from the professional theatre of New York which is extending its tour to Guyana for performances, after having played at different venues in the USA during 2014. Those performances have been critically acclaimed by various reviewers, commentators and audience members from sold-out shows. It shares the programme on Saturday night with Pandora's Box, a play by the National Drama Company.

Saturday's production is the result of a collaboration and is presented by NSTAD, Gems Theatre Productions, Ingrid Griffith and the Ministry of Culture, Youth and Sport. The result is a demonstration of new, meaningful creative theatre, a mixture of comedy, the Caribbean and the classical.
Ingrid Griffith is an actress, playwright, lecturer, columnist and a certified fitness professional who has also written on fitness as well as the popular culture. She is a member of Times Square Playwrights and American Renaissance Theatre Company in the USA. Her professional training includes a Master's Degree in Creative Writing, she has written for newspapers and magazines including the Newark Star-Ledger, Essence, and The Source. She lectures courses in Introduction to Theatre and Public Speaking in the Communication and Theatre Arts Department of John Jay College of Criminal Justice.
Her wide range of performances have included classical and contemporary roles in theatres in and around New York City, such as the lead role of Hedda Gabler in one of the leading classics of modern drama, Hedda Gabler by the founding playwright of modern Naturalist theatre, Henrik Ibsen. Griffith lists among her favourite roles so far, those of Mama Nadi in Ruined by Lynn Nottage, Lena Baptiste in Buckingham by Tina Andrews, Mrs Muller in Doubt by John Patrick Shanley, and Lady Reveller in The Basset Table by Susanna Centlivre.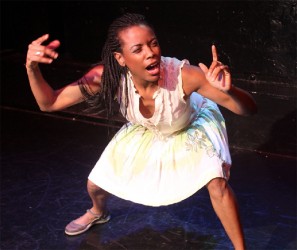 Demerara Gold which she is currently performing on tour, was written by Griffith. It is directed by Margit Edwards who is also an academic in Communication and Theatre Arts at John Jay, specialising in production courses. Apart from being a director, she has been a dancer, choreographer, researcher, actress, educator and administrator in a career of more than 20 years at John Jay College. She has brought to Demerara Gold a deep academic background to add to her vast practical experience. Edwards has an MA in Dance from UCLA, an MFA in Experimental Choreography from UC Riverside, and is a doctoral candidate at CUNY. This production of Griffith's therefore draws on that depth.
The production has even further distinguished credits. The lighting is designed by Amanda Chang whose work includes a number of productions at Yale University where celebrated Jamaican director, playwright and poet Denis Scott worked. Demerara Gold benefited from the expertise of its dramaturge and coach Mary Catherine Donnelly, a professional working across the USA and Italy, while Alysia Christiani, Blogger, Content Creator, Designer and former Studio Manager for Marketing and Creative Services at Sesame Workshop is the play's Promotional Designer.
The play is autobiographical since Griffith is originally Guyanese whose parents migrated to Long Island, New York while she was an infant. The drama addresses issues including immigration, the New York immigrant community, belonging and un-belonging, identity and the unconquerable spirit. The story is based on the culture and trauma of a seven-year-old girl transplanted from Guyana to Long Island and her development in that multicultural society. It tackles various issues relevant to the history of America as a nation built by immigrants. There are theories explored in other works of drama and fiction of the American Dream, of the ideal America of individual and family achievement and prosperity. Associated with that is the theory of America as "the land of room enough" – the place of opportunity where any immigrant can come and share in the bounty; they can all find a place and prosperity in the USA.
Of course concurrent with those is the irony that those dreams and boasts are empty and are not true when the immigrant minority confront the American society. This is reflected in the story of the Guyanese girl coming to America – the complaints and frustrations of her father, the disappointments of her mother and her attempts to adapt to a different culture. The plot begins with the seven-year-old in Guyana and continues with her 'unconquerable spirit' against her experiences in New York.
It is described as funny, as fine theatre as "comfortable with farce" and humour as it is with "confrontation" and colourful character portrayal as Griffith interacts with some 18 different characters of a variety of types. Griffith successfully completed her education, found a good job and comfortable settlement in Manhattan – the land had found room enough and opportunity for her in its mainstream middle class of the American dream. But she was not satisfied and felt she needed to address her father's feeling of migration unfulfilment and needed the cathartic exorcism of the story of her background and the Guyana-New York connection. That formed the background, stimulus and Muse for what she has dramatised in Demerara Gold. Its most recent run was at the Dorothy Strelsin Theatre in Manhattan after other Off-Broadway locations.
The tour in Guyana is being managed by Gem Madhoo-Nascimento of Gems Theatre while Saturday's production is coordinated by the NSTAD and the Ministry of Culture.
Pandora's Box is a play created out of the work done in classes at the NSTAD and performed as part of their final examination in 2014. It has inputs in coordination, writing, dramaturgy and directing from lecturers which pulls together into one play, work developed in the performance and acting courses based on the creation of character and emotions on stage. Playwriting and improvisation skills were drawn on to provide scripts which were woven into a single play directed by a dramatic and design concept. It is a demonstration of the work done in playwriting, directing, production, design, dance, acting, make-up, set design and costuming guided by the exposure to performance theory, avant-garde and post-modernist theatre and Caribbean performance.
The title is taken from the play's concept and design, and borrowed from Greek mythology. Pandora is the beautiful woman sent to earth from Olympus by the chief of the gods Zeus to punish mankind by destroying them. She was given a box containing all the evils, vices and furious emotions which were all let loose upon the earth to create havoc among mankind when she opened the box. The story contains an error since what she was really given was a jar, but the play makes use of the error by playing on the concept and motif of a box to emphasise vice and error at the core of the emotions expressed by man in society ever since the evolution of humanity. The box is a symbol, image and motif used in the design of the drama.
Pandora's Box is symbolist and illusionist theatre engaging various performing arts – acting, music, dance, movement, design and costuming. It exhibits the kinds of theatre studied in the NSTAD and demonstrates available alternative styles.
The National Drama Company of Guyana has already been in performance, presenting a short play called The Trouble With Neketa as a demonstration in Drama in Education for the University of Guyana and UNICEF. This kind of outreach is a role of the NSTAD and will also be provided by the company in which dramatic pieces are developed to demonstrate different types and areas of drama. The Trouble with Neketa demonstrated issues in early childhood education, language and culture and was performed by company members Nicola Moonsammy, Renita Dindyal, Tashandra Inniss, Sonia Yarde, Esther Hamer, Ayanna Waddell, Linden Isles and guest actor Jonathan Hamer. Another company member, Rae Wiltshire, contributed to the set and props.
Other members of the company who will appear in Pandora's Box include other 2014 drama school graduates Tonaisea Robertson, Kimberly Samuels, Akbar Singh, Lloyd Thomas, Pamela Wharton and Wendella Austin. They will be joined by 2013 graduates Mark Luke-Edwards, Nirmala Narine, Lisa Adams, and Latoya Kellman, as well as associate members Shelley Alexander and Akeem Joseph with guest actors Sean Thompson and Kimberly Fernandes.
The company will also assist in training by extending the outreach to groups interested in drama in various parts of the country. Additionally, linked to training will be the performance of other demonstration pieces which exhibit material that is a part of the Caribbean Examination Council's Theatre Arts and Performing Arts syllabus for the Caribbean Advanced Proficiency Examination.
Around the Web