By Kenesha Fraser
Singing star Ulanda Fraser believes that if there were recording facilities on the Essequibo Coast, its artistes would be able to better highlight and promote their talent. She noted that the coast has its fair share of talent, but it is really only showcased in the coast. Those who want to push ahead must find the resources to travel to the city.
Ulanda has been singing since she was a child.
"I knew I wanted to become a singer at the age of six when I sang my favourite song, 'Seven Days a Week' in church for the first time, said Ulanda as she reminisced on her childhood days.
Now 18, Ulanda is aspiring to be a great singer and even imagines herself receiving awards on the international stage. Her journey to that stage has already begun with her crowning as 'Essequibo Star' last year.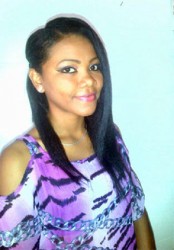 Born and raised in Anna Regina, Lower Pomeroon River, Ulanda is the second of four children for her parents.
Her parents later moved to Charity, Essequibo Coast in an effort to provide better education for their children.
Ulanda's talent was recognized when she won the Essequibo Star Competition where she competed with other great singers.
"It was a tough competition but in the end I came out on top with the help of God. I made myself and my family proud and that competition was a stepping stone for me," she said.
Soon after, Ulanda was being invited to sing at the opening of business entities and at the Anna Regina Town Night.
One can say that singing runs in the family, since her older sister Yonel Fraser won the competition in 2013 and was even a competitor in the GT&T Jingle Competition that same year.
"I'm very passionate about singing. It's something that keeps me going and gives me confidence," Ulanda said. "I have many musical influences but I am a fan of Nicole Mullen, Don Moen, CeCe Winans, Gregory Isaacs and Brandy. I think that they are all great singers and that inspires me to follow my dreams. I know that one day I can be a great singer who can also be an inspiration to others."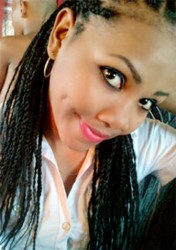 5Ulanda's family is 110 per cent supportive of her and her aspiration to become a famous singer. The only hindrance is the lack of musical facilities on the Essequibo Coast.
"I've written a few songs but haven't been able to… record because there isn't a place here on the Essequibo Coast where I can do that. After winning the Essequibo Star Competition, I was motivated to write and perform songs and I had the opportunity to perform at concerts, pageants, funeral services, talent shows and weddings. Performing gives me pleasure. It boosts my confidence each time I go on stage. It was a once-in-a-lifetime opportunity for me to win the Essequibo Star Competition. I felt happy and ecstatic and it also brought me publicity since my sister had won the title the year before and persons started recognizing the hidden talents in Essequibo."
Even though she is still quite young, Ulanda says nothing will stop her from pursuing her dreams.
"I believe that God will work things out for me. He has always been there for me and I know he wouldn't give up on me now.
"There are a lot of youths in my community who I want to be an inspiration to. I want to let all young people know that even though things may not be to the best, they can succeed if they put their minds to it just as I am doing. It would be great if a recording studio can be founded in Essequibo. We have a lot of youths here who are very talented but there is no studio or anything of that sort here."
When asked who inspires her, Ulanda replied, "My parents are my inspiration! They're very supportive in every way possible! I'm also inspired by myself. When I'm successful in various activities I feel energized and confident. When I make mistakes, I learn from them."
Ulanda said that even though she has no major musical accomplishments to boast about, she is optimistic that she will one day be a big name in the music industry with the help of God.
"I'm even hoping to win The Voice…," Ulanda said.
Around the Web