Five men are in police custody in connection with the robbery/murder of a 64-year-old man of Parika Sea Dam, East Bank Essequibo whose bound and gagged body was discovered around 6:20 am yesterday.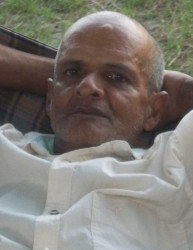 Ramroop 'Isaacs' Rameshwar was reportedly murdered just before 10 pm but the discovery was made around 6:20 am. A police source said that if there is enough evidence, the suspects would face charges soon.
His son, Ramesh of Tuschen, EBE believed that his father who lived alone was killed for a quantity of gold jewellery that he had in the house.
"He had $2M worth of gold jewellery – including four rings, four chains and two bands – but he didn't want to give anybody to keep," he said sadly.
"I took it [jewellery] away one time to keep but he [father] collect them back. He de plan to sell it and give some to his four grandchildren," Ramesh told this newspaper.
His father had purchased the jewellery with money he had saved while working as a security guard for several years.
The body was lying face down in the living room with blood oozing from the mouth. A small amount of blood was on the floor under the head.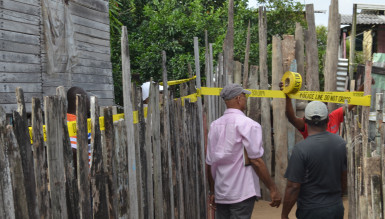 The feet were tied with a piece of green rope and the hands were bound to the back with two shirts. He was also gagged.
There was no forced entry, which suggested that Rameshwar may have known the attackers.
At the scene, a woman related that around 9:55 pm she heard the man "hollering murder, murder." She woke her daughter and they both listened. However, they ignored the man's screams for help because "he would behave like he's mad" at times.
As she was walking past his house yesterday morning on her way to work, she saw the top half of his door open.
Realizing that something was amiss, she started shouting, "Ole Bai, Ole Bai," but there was no response. She then alerted the other neighbours. When they checked they discovered the body and informed the police.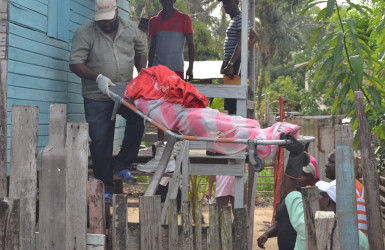 Although the houses are not far apart and more neighbours could have heard the screaming clearly, relatives found it strange that they did not check or contact the police at that time.
Ramesh told Stabroek News that he was at his farm at Hog Island – where he spends a few days with his family, at times – when he received a call from the neighbour who told him: "Ramesh, yuh father get murder."
She told him that she was "peeping but couldn't come out because she and her daughter were alone at home."
The woman also related to Ramesh that the day before the murder his father was telling her that he "had a lot of jewellery" and that he wanted a market for it. She said she told him, "Ole Bai know what yuh saying because people are not easy."
Ramesh said that his father "don't drink about" and was also planning to invest in a boat and engine and start farming again. He also worked as a cleaner at the nearby marketing centre.
After retiring as a security guard, Rameshwar also did farming at Hog Island but stopped over three years ago.
Some residents described him as being quiet and friendly and said they would hardly see him coming out of his house.
Around the Web