A Guyanese national, identified as Neville Hillary Phagu, was one of two men charged yesterday over a multimillion dollar cocaine find at Carlisle Bay, in Barbados.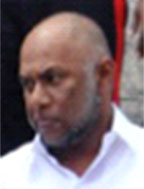 Nation report, Phagu, 39, and Barbadian Jeffrey Harrington Callender, 48, of Coral Land, Haggatt Hall, St Michael, appeared in the District A Magis-trates Court, according to a Barbados Today report.
The charges come after police seized a boat, 122.9 kilos of cocaine and 94 kilos of cannabis during an operation last Wednesday. The drugs are valued at over $6 million.
Phagu and Callender were jointly charged with possession of cocaine, possession with intent to supply cocaine, trafficking cocaine, possession of cannabis, possession with intent to supply cannabis, and trafficking cannabis, the report said.
Phagu was also separately charged with importation of cocaine and importation of cannabis.
Around the Web