A short film festival, showcasing Guyana's culture, is part of this year's Golden Jubilee celebrations.
CineGuyana in collaboration with the Ministry of Education's Department of Culture, Youth and Sport yesterday presented a trailer for the eight short films that will be screened during the Golden Jubilee Short Film Festival.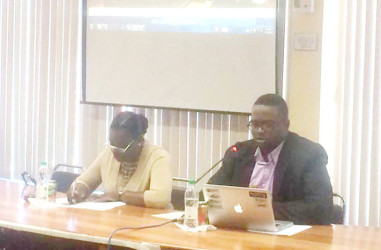 The films—Luck Beat Handsome, The Bottle, Beached, The Encounter, Three Cards, Backyard, Hope and Tradition—were produced in 2011 under the President's Film Endowment Project, put in place by then president Bharrat Jagdeo.
Speaking yesterday at the National Resource Centre after the trailer was presented, Junior Minister of Education Nicolette Henry praised the collaborating between the Government of Guyana and CineGuyana. "I have always been touched by the quality of the art work here in Guyana and so I certainly would like to welcome this film festival as it forms part of our calendar of activities to observe Guyana's 50th," she said, before stating that the collaboration only builds on the existing relationship between the two entities.
She said the government will continue providing for the sustainability of the film industry of Guyana and hopes that the films will be accessible to a wider audience.
The films are being shown across eight regions around the country.
"In the coming weeks of the film festival we will have a chance to sink in our seats and experience in the coming of others, our culture," Henry said.
Director of CineGuyana Phillip Williams thanked the Department of Culture for the collaboration. He said that the eight films involved more than 800 Guyanese and were produced with hard work and sacrifice. "These films have travelled the world via festivals and cultural educational events," he said, before adding that the experience of watching the reaction of the many Guyanese abroad is priceless.
"…And here again the simple things we take for granted matters the most. The audience were looking at the movies and you should've seen their reaction when they saw a Kero stove and a pot with lil bun on it. They were so excited and for us we take it for granted because that's our life everyday but people who haven't been home in a long time revel in it," Williams said.
He pointed out that the films are an interesting mix of themes, genres, and reflect the rich Guyanese culture. "It's like a mirror every time you look at the films it's like looking at yourself," he added.
Williams said CineGuyana has an ongoing membership programme that has already seen about 50 applications as its aim is to foster and develop films and the filmmaking and creative industry in the country. "We are passionate about being Guyanese, we are excited about the stories we have to share," he said.
Around the Web