A lawman was arraigned on four traffic charges yesterday and fined $107,500 after pleading guilty.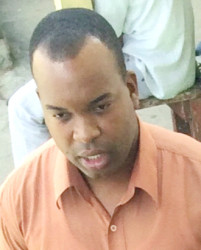 Linden Barnwell, a policeman, appeared before Magistrate Lerone Daly in the Providence Magistrate's Court charged with dangerous driving, failure to render assistance after an accident, driving under the influence of alcohol and breach of insurance.
According to reports, on March 17, at Herstelling, East Bank Demerara Barnwell drove motor vehicle PTT 4587 in manner dangerous to the public and therefore injured Vivian Paul. On the said day, the court was told, Barnwell failed to render assistance after the accident by not taking the victim to seek the attention of a registered medical practitioner. The court also heard that Barnwell drove PTT 4587 while being under the influence of alcohol. He was given a breathalyser test and found to be above the legal limit of consumption of alcohol. In addition, he breached the policy of insurance in respect of the third party therefore causing a risk in relation to use of the vehicle.
After the charges were read, the unrepresented Barnwell pleaded guilty to all them. He was later fined $60,000 for dangerous driving or six weeks' imprisonment; $20,000 or two weeks in prison on each of the charges of failure to render assistance and breach of insurance. He was also fined $7,500 for driving under the influence.
During the court hearing no personal information was presented to the court.
Stabroek News gathered that on the day of the accident, Paul was looking under the bonnet of his car, when Barnwell approached and hit his car from behind. The impact pushed Paul some distance away, and he fell to the ground.