Attorney General Anil Nandlall says that the granting of an order to have the Special Organised Crime Unit (SOCU) keep his client's gold jewellery is an abuse and misuse of the Anti Money Laundering and Countering the Financing of Terrorism (AML/CFT) Act.
Nandlall who represents goldsmith Richard Ramjit whose jewellery had been seized at the airport in January says that the items have not been returned and it was only recently that he was made aware that the police had moved to the court to have the pieces kept for 90 days. That application was granted by the court.
The attorney had filed a $10M lawsuit in connect with the detention of the jewellery and one of the orders being sought was the return of the items seized.
Nandlall in an invited comment said that an ex-parte order should never have been granted detaining a person's property for several months without affording them a hearing.
"That order by itself amounts to seizing of properties without due process and I am surprised that a Judge would make such an order and not even order service of the order even after it has been made", Nandlall said.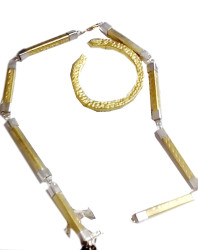 "Only when we appeared on Thursday morning (last) at court … we were made aware that the commissioner of police made an application since January to detain this property for 90 days", he said.
According to Nandlall, a former Attorney General, concerns about SOCU's irregular operations have been compounded by the fact that the public security minister Khemraj Ramjattan has not yet made public the protocols under which SOCU is operating.
He said that a promise to do so was made during the budget debate several weeks ago but those protocols have not been made public.
According to Nandlall, last Thursday was the first time they were served with the court order. The order had been granted by Chief Justice, Yonette Cummings-Edwards (in Chambers) dated 21st January, 2016 and was made pursuant to Section 37(2) of the Anti Money Laundering and Countering the Financing of Terrorism Act, Chapter 10:11.
The application was made by the head of SOCU on behalf of Police Commissioner Seelall Persaud. "It is ordered that the Commissioner of Police be at liberty to detain gold weighing 19.12 ounces, value estimated at G$3,943,360.00 seized from the possession of Mr. Richard Ramjit on the 19th day of January, 2016, for a period of not more than 90 days from the date of seizure for the purpose of investigating whether the said gold are the proceeds of criminal activities and/or the subject matter of money laundering", the Order stated.
Nandlall told this newspaper that Ramjit is an ordinary goldsmith who runs a small stall located on Robb Street.
He said that he owned the necklace and gold band in question for over 5 years and has worn them numerous times when travelling in and out of the country to the USA. He has never once been questioned before by Customs Officers or indeed anyone else about these pieces of jewellery either at CJIA or JFK International Airport, Nandall added.
"It is obvious that because the abusive and unlawful actions of the SOCU officer at the airport is now being challenged in the Court, that a case is now being fabricated and concocted, utilizing the vast powers contained in the AML/CFT Act, to justify and defend this misuse of power", he said.
He said that it is important to note that the law provides for the SOCU officer to have had reasonable grounds for suspecting that the jewellery has some connection to proceeds of crime or money laundering, in the first place, before he seized it.
According to Nandlall in this case, the SOCU officer  seized first and then proceeded to obtain a Court Order to "justify his unlawful detention of my client's property while he launches investigations to determine whether it was derived from proceeds of crime or money laundering.
"So he seized without reasonable grounds for suspicion. In other words, they have turned the law upside down. This entire case is a travesty of justice", he said.
Ramjit, in the affidavit in support of his motion, explained that as he was checking in at the airline counter, a person in civilian clothes who identified himself as a CANU rank indicated that he wanted to search his suitcase and ask certain questions. The document said that Ramjit was escorted to a room, where there was another man in plain clothes who refused to divulge his name.
During questioning about his jewellery, Ramjit said he told the rank that he had made it himself five years ago and since then has worn the items when travelling abroad without incident.
Ramjit said the officer accused him of smuggling gold and he denied. He further alleged that an attempt was made by the officer to "settle the matter" in exchange for not seizing the jewellery. He said he refused the offer and was then permitted to leave but while heading to the Departure Lounge he was stopped by a Customs Officer, who asked to see his jewellery.
He was then allowed to proceed but moments later the same officer requested that he (Ramjit) follow him to his office, where he was again accused of smuggling gold.
He was then escorted to the tarmac, where his suitcase was searched by a sniffer dog but nothing was found. Ramjit said he was then escorted to the Customs Office, where he was further questioned and informed that it was unlawful to have jewellery which exceeds the value of US$10,000 without making a declaration.
The jewellery was then seized and he was instructed to visit the SOCU office the following day. By then he had spent four hours with the customs officer and his flight had already left.
Around the Web