The police yesterday arrested the father of Simone Hackett's child  in connection with her knifing to death in Cummings Lodge.
According to Crime Chief Wendell Blanhum, the man was arrested in Mahdia and arrangements were being made up to late yesterday afternoon to have him transported to the city for questioning.
Stabroek News was reliably informed by a source that records from the woman's cellular phone were reviewed and revealed that the man was the only person in contact with her since she went missing on Saturday evening.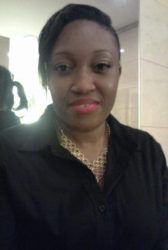 Hackett, 25, a mother of one who resided at 'C' Field, Sophia, was last seen alive by her relatives on Saturday around 8.30pm, when she left home to pick up a package sent by the father of her child.
Her  decomposed body was found around 8am on Tuesday in a trench between Third and Fourth streets, Cummings Lodge, East Coast Demerara, by two school boys, who were on their way to school. A cutlass, the suspected murder weapon, was found under her body.
Hackett's neck was slashed and there were three wounds to the back of her head.
She was fully clothed and all the jewellery she had been wearing at the time she left home was found intact.
She went missing on Saturday evening, the day before her sister's wedding, where she was to have been maid of honour, and her son's second birthday.
On Monday, an aunt had told Stabroek News that around 7.30 on Saturday evening, Hackett received a call from someone identified only as "Dexter" requesting that she leave to pick up the package which was sent for her son's birthday by his father. She was expecting a quantity of cash and some raw gold to make jewellery for the child.
However, some two hours later she called her father's phone, which was answered by her sister. "She told her sister that she is at UG Embankment Road after she was requested by Dexter to stand there after he changed his direction, and he [Dexter] was taking too long to come, so she wanted to come home and she knew her father was nearby at the Giftland Mall, so she was asking him to pick her up while he was going home but he did already reach home," the distraught aunt recalled.
The aunt said after that calls to Hackett's phone went unanswered. "One time we got a call… [but] didn't hear anyone saying anything, just some breeze like she was in a moving vehicle," she stated.
The matter was reported to the Turkeyen Police Station on Sunday morning.
The aunt said that based on information she received, the father of Hackett's child was claiming, "he doesn't even know where this guy Dexter lives or where we can find him or anything. He just said he knows him because he works sometimes in Mahdia."
The aunt explained that Hackett and the father of her child had been involved in a dispute over custody of the two-year-old. She said, "One time he even take away the child to Mahdia and she [Hackett] had to go and bring him back to Georgetown." She said her niece had worked in a shop in the interior and at one point in time the man had hidden Hackett's passport and other documents so that she would be unable to return home.
Around the Web