The Police yesterday said that the reputed husband of Simone Hackett has admitted murdering her on Saturday.
The man was arrested in Mahdia on Wednesday and was brought to the city for questioning in connection with Hackett's knifing to death in Cummings Lodge. It was during interrogation yesterday he confessed.
Sources close to the police say that investigations have revealed that the reputed husband stayed in a city hotel during the day and as night fell he took a taxi and went to a bus stop at the University of Guyana entrance road. He told investigators he met Hackett and the two had a conversation during which they walked in a southerly direction. Stabroek News understands that as the two walked along the road a heated argument ensued.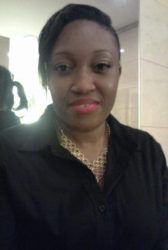 The man told investigators that while they were at a dark spot on the road he choked her from behind and inflicted the wounds.  The man then went back to the taxi that was waiting on him and subsequently left for Mahdia the said night.
Police are currently pursuing the driver of the taxi as he is wanted for questioning.
Hackett, 25, a mother of a two year old, who resided at 'C' Field, Sophia, was last seen alive by her relatives on Saturday around 8.30pm, when she left home to pick up a package. Stabroek News was reliably informed by a source that records from the woman's cellular phone were reviewed and revealed that the man was the only person in contact with her since she went missing on Saturday evening.
Hackett's decomposed body was found around 8am on Tuesday in a trench between Third and Fourth streets, Cummings Lodge, East Coast Demerara.
Around the Web