The retrial of the two men charged with the 2007 murder of nine-year-old Sade Stoby began yesterday before Justice Jo-Ann Barlow with an emotional testimony from the dead child's mother Sharon Berry.
Jevon Wharton and his co-accused Charles Cush are alleged to have murdered Stoby on November 2, 2007, leaving her semi-nude body to decompose in a heavily vegetated area in Barnwell North, Mocha Arcadia. Her body was discovered two days after her mother reported her missing.
Almost two years have passed since jurors were unable to reach a unanimous verdict in the case, which was first heard by Justice Navindra Singh. The duo had on remand since then.
An emotional Berry, the first of four witnesses called to testify yesterday, had to take a moment to compose herself after breaking down in tears as she faced her daughter's alleged killers from the witness box. In light of this, Justice Barlow urged the woman to take things "step by step" in order to give the full extent of her evidence.
Asked to recount the days leading up to her daughter's body being discovered, Berry told the court that the last time she saw her daughter alive was on the morning of November 2, when Sade left home for school, a journey she made on foot.
Berry explained that when her daughter did not return home at her usual time of 3:30 pm, she started asking neighbours whether they had seen Sade, but no one had. Her checks subsequently expanded to other sections of Barnwell and continued until night fell.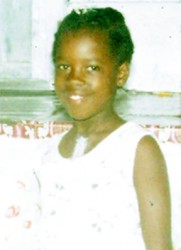 The search was picked up again the following morning with the aid of a police officer from the Mocha Arcadia Police Outpost, where she had gone to file a missing person's report. She told the court that they searched from First to Seventh Field, Barnwell but were unable to locate Sade.
However, as a result of a phone call she received on November 4, 2007 from her husband, Berry said, she journeyed to Sixth Field, Barnwell where she saw Sade's partially nude body submerged in a drain a short distance away from where she lived.
"Her body was swollen. Her uniform was up to her waist. Her tights and underwear were about two feet away from where she was lying," a tearful Berry explained.
She said her daughter's legs were sprawled and there was evidence that Sade had suffered multiple trauma to her head.
Berry noted that the area where the discovery was made was at the time isolated and heavily vegetated by bushes and tall trees and was only accessible by a dam.
Also testifying yesterday was Rosanne Cush, mother of the number two accused Charles Cush.
In her evidence-in-chief, the woman stated that on the day Sade went missing, her son had left home that morning to pick up his sister at "Big Tree" at the Mocha playfield. On his return, the woman said, she instructed her son to collect pone from "Sister Patsy", adding that he returned sometime after.
The witness explained that her son, who was 16 years old at the time, had inquired whether she wanted a piece of cane to eat, to which she responded in the affirmative resulting in him leaving the house for a third time that day. This time, she said, she did not see Cush again until after 4 pm when she was heading out.
She said at that time, Cush's skin was wet and he was clad only in track pants, explaining that when he had left the house earlier Cush was wearing a t-shirt and pants.
"I asked where he went and he said he went swimming. I told him to change off his wet pants and come back," she said.
When he returned, she said, she took Cush and another of her children to her sister's residence, where they stayed until she returned for them after church.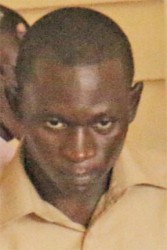 She said the next day she went to clean the church and Cush was sent to the same sister's house.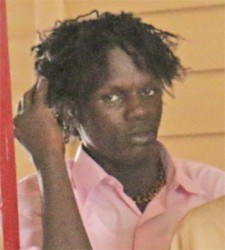 However, when she returned later that afternoon, Cush was not there nor could he found; a day and a night had passed, before Cush finally returned home. His mother explained that it was just as she was preparing to visit the police outpost to report him missing that she saw him at a nearby shop in the company of several relatives of Sade.
"In less than 5 minutes, I see a bus coming towards the shop… Sade's uncle was driving the bus and when it stopped we all joined the bus and went to the Providence Police Station," his mother noted.
But she did not accompany her son inside the station, she said, as she became overwhelmed by what was happening and suffered a breakdown and thus was unable to say what happened from that point on.
Under cross-examination by Wharton's lawyer Maxwell McKay, Cush's mother explained that she had known his client since he was born as she shared a close relationship with his mother who is now deceased.
Questioned by her son's lawyer Madan Kissoon, the woman related that it while it was common for her son to venture into nearby canfields for sugar cane, it was uncommon for him to stay away from home for such extended periods of time.
In her opening address, State Prosecutor Shawnette Austin related that Sade had left her home on Friday, November 2, 2007 for her school which was located a mile away, but never returned home as her lifeless body was discovered two days after. Sade's cause of death was given as asphyxiation due to submersion compounded by blunt cranial trauma.
The case is being presented by Austin in association with Siand Dhurjon and is expected to continue today.
Around the Web