A total of five persons are now in police custody as investigators continue to probe the eight-year-old death of Ruby businessman Habiboodean.
Linden Lewis, called "Bullet," 28, of Tuschen, East Bank Essequibo (EBE) was one of the five persons who had been arrested for questioning in relation to the recent murders of Good Hope rice farmers, Mohamed and Jamilla Munir.
However, while the other suspects were eventually released, Lewis remained in custody and was grilled by investigators in relation to the murder of Habiboodean. Police say he has confessed that he was the hit-man and has since implicated five others who he described as the plotters.
Contacted last evening, Crime Chief Wendell Blanhum told Stabroek News that four of the five individuals who were implicated were arrested between Monday evening and yesterday. These include the daughter of the businessman, Bibi Nazeela Habiboodean, who turned herself into the police yesterday in the company of her lawyer.
Habiboodean, 76, of Lot 111 Ruby, EBE, died at the Woodlands Hospital on February 15, 2008, one day after he was badly beaten at his home. A relative had told this newspaper at the time that nothing was taken from the home and neither was it ransacked and the incident occurred reportedly because of a family feud.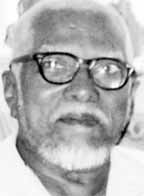 Bibi Nazeela Habiboodean, 42, and Terry Lewton, 38, of Vergenoegen, EBE had been charged with the murder.
It had been alleged that Lewton murdered Habiboodean, while Bibi Nazeela counselled, procured and commanded him to commit the said offence. Less than a year later, they were freed after Magistrate Fazil Azeez had ruled that a prima facie case had not been made out against them.
Stabroek News was reliably informed that Lewis provided investigators with a statement during which he explained that a close relative of Habiboodean had promised him $6 million, a house, land and a car if he killed the businessman. The suspect reportedly said that on the day of the fatal attack, he was given access to the businessman's house by the relative. He told police that as he entered the house, Habiboodean, who was sitting on a chair, asked him what he was doing there and he responded, "I come to kill you."
The suspect reportedly then took a piece of wood and dealt Habiboodean blows to the head until he fell motionless; he then disposed of the wood in the backyard.
He also reportedly said that the relative told him that there were other relatives who had already been given certain assets and she was impatient to receive her share.
The suspect also indicated to investigators that after the act was committed he was given $5,000 and told to go to the interior and that he would receive the rest when he returned, as the police had already arrested three persons.
He said he went to Puruni Backdam and returned two years later, at which point he was told that the rest of the cash promised to him was used to money to pay a lawyer and to spend at the "tuck shop." He said he never asked again.
Around the Web