Harrylall Motilall, the businessman who was charged almost two years ago with discharging a loaded firearm at officers from the Guyana Revenue Authority (GRA), was on Monday sentenced in absentia to four years in jail after he was found guilty of the crime.
Motilall was found guilty of the charge, which stated that on July 16, 2014, while in company of others at Airy Hall, Mahaicony, he discharged a loaded firearm at Fabian Stuart, Jason Moore, Khemraj Murli and Garfield Scott with intent to maim, disfigure, disable or cause grievous bodily harm.
The ruling was handed down in Motilall's absence on Monday by Magistrate Sueanna Lovell at the Mahaicony Magistrate's Court after the prosecution closed its case. The magistrate ordered that Motilall spend the first two years in prison. He is to spend the remaining two if he commits any other criminal offence afterwards.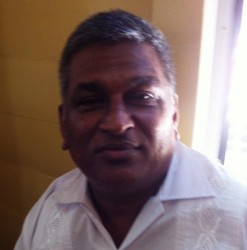 The case was prosecuted by Police Inspector Hattie Anthony and Corporal Cheryl Graham, while Motilall was represented by attorney Kim Kyte-John from the inception of the matter.
The case was initially called on July 21, 2014 before Magistrate Lovell and Motilall was placed on $350,000 bail.
Officials had swooped down on a Mahaicony property where 150 boxes of chicken were being discharged from three buses. During that time, a silver-coloured car appeared and the occupants opened fire at the GRA officers, who returned fire. Five spent shells that were reportedly from an AK 47 gun were recovered, while a few were recovered from the officials' guns.
Prosecutor Graham, during the first court hearing, had said the GRA officials came under fire while intercepting smugglers. She submitted that the workers were in the process of taking away three vehicles with the smuggled items when the accused drove up in a silver car and discharged several rounds. One of the workers was shot to the chest and right hand.
Around the Web