Due diligence is currently being done on two firms that had bid to rehabilitate the Moco-Moco hydropower facility and the project should be completed by the end of 2018, Minister of Public Infrastructure David Patterson says.
Minister of Social Cohesion Amna Ally told over 100 residents at the Moco-Moco Primary School over the weekend that the Moco-Moco hydropower facility is expected to come on stream shortly as government has been successful in securing $200 million in international financing, the Government Information Agency (GINA) had reported.
Patterson told Stabroek News that the money – US$2 million – is grant funding from the Inter-American Development Bank and GIZ. He said the money had been there for a while, even before he got into office, but never utilised.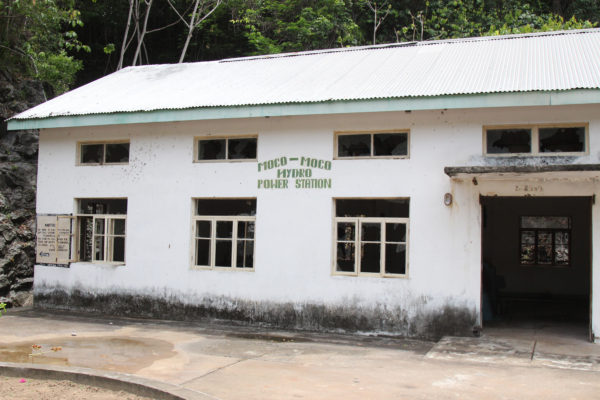 Patterson noted that there was a public tender and said two firms were shortlisted and due diligence is ongoing. He could not say when the project will begin but said that it has to be completed within two years. "It has to be finished before 2018," or the money goes back at that time if it is not utilised, he said.
"The money is here already, everything is here, it's just the question of …the technical stuff we have to do…," he said while noting that the bidders would have submitted a proposed design and this would have to be evaluated.
At the project's completion, the hydropower facility will be able to generate 0.75 megawatts of power, Patterson said. The previous installed capacity of the facility was 500 kilowatts.
The hydropower facility at Moco-Moco was damaged by a landslide in 2003 and never fixed. It has since been severely vandalized. The Chinese-funded hydropower plant was commissioned on November 22, 1999.
The APNU+AFC administration had indicated its intention to rehabilitate the facility and earlier this year Stabroek News reported that Brazilian and Barbadian companies were among five bidders for rehabilitation work on the Moco-Moco hydropower plant.
The Ministry of Public infrastructure had identified the bidders as CHEA – Centrias Hidreletricas da Amazonia LTDA – ME (Brazil), NCGET (Russia), Torque – EPCM (Barbados) and two from McVantage Products (USA).
Under a Build, Own, Operate, Transfer framework, power will be supplied to the Lethem Power Company grid under a negotiated and agreed Power Purchase Agreement, the ministry had said.
Around the Web