The three persons who were detained for questioning into the murder of handyman Ganesh Roopnarine, whose body was found along the Mon Repos, East Coast Demerara (ECD) Public Road more than one week ago, have been released.
Contacted for an update on the matter yesterday afternoon, Commander of 'C' Division Marlon Chapman informed this newspaper that the men were arrested on separate occasions for questioning into the matter but were subsequently released since there was not sufficient evidence implicating them.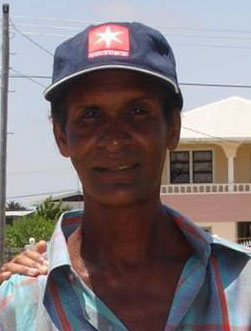 The body of Roopnarine, called "Brian", 56, of Lot 134 Dr Miller Street, Triumph, East Coast Demerara was picked up from the Mon Repos, Public Road on July 17.
A post-mortem examination conducted on his remains revealed that he died as a result of cerebral haemorrhage due to blunt trauma.
The police were alerted about the discovery after a passerby reportedly noticed a man beating another with a piece of wood. However, before they could have arrived on the scene, the suspect had fled with the suspected murder weapon.
Roopnarine's face was swollen and there was a laceration to his head. He was taken to the George-town Public Hospital where he was pronounced dead on arrival.
He was last seen alive by his family members the day before the incident occurred when he informed them that he would be staying at a friend's house in Lusignan.
His sister, Swarsatie Roopnarine had related to this newspaper that a passerby told her that he was proceeding along the roadway in his truck when he noticed a man hitting Ganesh continuously with a piece of wood. The man, she said, told her that before he could have exited his vehicle, the suspect escaped.
"He does drink often and so but he don't interfere with anyone," one relative had related.
Around the Web