The suspected owner/driver of the getaway car used by the men who gunned down taxi driver Orin David on Monday was arrested shortly after and the police are currently pursuing four other suspects, including two known characters.
This is according to Crime Chief Wendell Blanhum, who told Stabroek News yesterday that the suspect was arrested hours after the incident. It is believed that he was the owner/driver of the car which was used to transport the other suspects to and from the scene.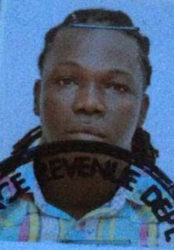 Blanhum said four other persons are also wanted for questioning, including known characters Howard Rambharose and Romel Ross.
David, a taxi driver of Lot 89 Laing Avenue, Georgetown, was gunned down on Monday afternoon in front his home after he was approached by two persons known to him. At the time, he was reportedly drinking with some friends and relatives.
He was shot three times about his body and taken to the Georgetown Public Hospital, where he was pronounced dead on arrival.
Stabroek News was told that David had bailed one of his friends out of jail several weeks ago and was told that he was going to get back the money. However, he did not receive full repayment and he became annoyed at the person.
One eyewitness had related to Stabroek News that the three men were engaged in a conversation away from the drinking and were later seen arguing. "From what I know and heard from… when they come up is that he [David] wanted some money from them because they had owed him," an eyewitness, who was close to David, related.
"I don't know exactly what was going on in the argument or what was said or if it was anything more than the money issue but they left and they come back with more men," the eyewitness related, while pointing out that when the two men returned, two vehicles and two motorcycles with men came with them.
"I don't know if they came to fight a war or something but one of them had a big gun that he was hiding and I don't know if they had other people in the car with guns too. When he [David] see them coming, he started walking back to them 'cause is nah like he expect them to shoot he," the eyewitness had said. It was when David got to the middle of the road that one of the two men pulled out a "big gun" and fired three shots, hitting him.
David, called 'Plait Hair,' along with Shawn Anthony Thom, were charged with the murder of Lakeram Bishundial, who was fatally shot during a robbery at Hope, East Coast Demerara, on August 21, 2010. He was found not guilty of the murder in February last year.
Around the Web