Guyana's late president Forbes Burnham was the author of social cohesion and of national unity, according to President David Granger who hailed the former Head of State during a wreath-laying ceremony on Saturday to commemorate the 31st anniversary of Burnham's death.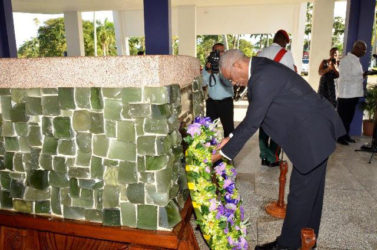 The wreath-laying ceremony was held at the Mausoleum at the Seven Ponds in the Botanical Gardens where the former President was laid to rest, a report from the Ministry of the Presidency said. Burnham was Guyana's first Executive President and founder of the People's National Congress (PNC). He served as Prime Minister of Guyana from 1964 and as President from 1980 until the time of his death in 1985 at the age of 62.
President Granger in his remarks said Burnham was the author of social cohesion and architect of national unity, who transformed Guyana from a divided colony to a more united and less unequal country.
"He established order out of chaos and conciliation out of conflict…he fought against the marginalisation and segregation of the colonial regime into which he was born and sought to create a society of equality and inclusivity for posterity. It was through his visionary leadership and wise stewardship that the foundation of a just and cohesive society was laid," he was quoted as saying.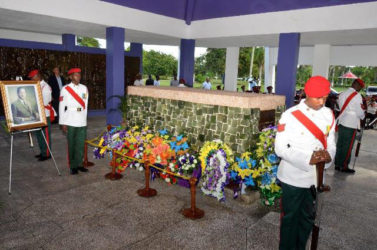 According to the report, Granger made reference to a public broadcast made by Burnham in 1964 after he was sworn in as President during which he said that, "this Government holds that all the people of this country are equally important, whether they belong to a large group or a small group. To us, the Amerindians are important. To us, the Chinese are important. To us, the Portuguese are important. To us, the Europeans are important. To us, the mixed races are important. To us, the Africans are important. To us, the Indians are important. In short, all Guianese are important and valued members of our community and we cherish them and consider that, as a Government, it is our duty and privilege to guard, protect and further the real interests of all."
Granger said the sentiments and precepts adumbrated in the statement by Burnham over 50 years ago are permanent and paramount today as his Administra-tion proceeds along the path of national unity and social integration.
"It is our Government's duty today, as it was 50 years ago, to protect the interests of all and not of some. The people cannot be imprisoned in ethnic enclaves. The people are not the property of one or other political party. Forbes Burnham's ideas were for all time and for all Guyanese… We recall Forbes Burnham's wise counsel of cohesion today, whenever the voices of divisiveness are raised; wherever the hand of hostility tries to hit and hurt our vulnerable citizens and by whosoever peddles the propaganda of separateness among our people," the President was quoted as saying.
According to the report, Granger said that Burnham was devoted to the task of rebuilding a society that was free of discrimination, distrust and disorder, determined to destroy the bastions of prejudice, social injustice and inequality, vices, which sustained a stagnant colony and dedicated to providing equal opportunities to all citizens to enable them to develop their talents.
Working together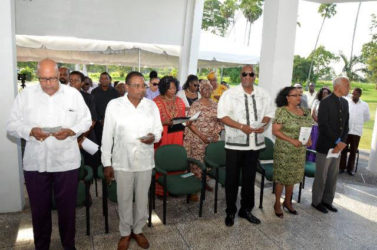 Meantime, the statement said similar sentiments were expressed by Minister of Social Cohesion Amna Ally, who, in a brief comment said Burnham always advanced the concepts of working together and of national unity. She said a good example of Burnham's policy on inclusivity is the coalition he forged between the PNC and the United Force.  Ally said that there is greater awareness across the country with regard to the need for social cohesion and credited this to the administration's policy and the work of her Ministry, which has embarked on a sensitisation campaign, the report said.
"They [Guyanese] have begun to see the importance of us working together. They have begun to see the importance of bridging the gaps so that we can foster social cohesion in our communities. They are seeing the benefits…" the Minister was quoted as saying.
Meanwhile, Alistair Sonaram, who was one of those who attended the wreath laying ceremony described the late President as a visionary, a fighter and a true leader. He said he believes strongly that if Burnham was alive today, Guyanese would have been living in a more cohesive society rather than being segregated on the basis of ethnicity. He added that citizens need to stop looking at the colour of each other's skin and see themselves as one. "Colour should not matter in our nation, we have lost our way in that sense and if we are to live together, we have to accept each other for who we are," Sonaram was quoted as saying.
Around the Web