President David Granger on Friday called for an action plan for the Corentyne, which he said has the potential to afford its residents a good life.
Speaking at the Central Corentyne Chamber of Commerce's (CCCC) 12th annual Berbice Expo and Trade Fair at the Albion Sports Complex, the President said, "The Corentyne is diverse. The Corentyne is Guyana's agricultural heartland."
According to the President, although Region Six is a vast region and is gifted with a strong production base and an abundance of talent, the region's population continues to decline tremendously. He said civil society and non-governmental organisations should ask themselves why people are turning their backs on what is potentially a rich region.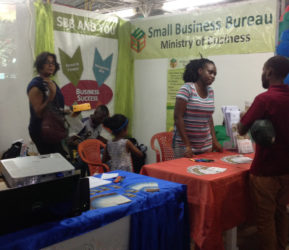 He said he does not have the answer, but believes that, "When things were good, good prices for sugar, good prices for rice, we did not think of diversifying the economy. So when the prices declined it was too late to change and they had no reserves."
However, he said citizens need to change. "Once you are depending on rice and sugar, even if you get a good price one year, sooner or later the prices will fall," he stated. He urged citizens to develop an economic model which evens out between the good years and the bad years. "You have to diversify," he charged. "You have to introduce new technologies. You need new economic ventures, new employment opportunities, new strategies."
He called on officials, leaders and organisations in the region to put their heads together in order to put the Corentyne's tremendous resources to work and make the entire region a prosperous and productive one.
"Corentyne, you can enjoy sustained growth and give your people a good life, if you are prepared to make that change; if you are prepared to examine your tremendous potential and put your resources to work for you," he exhorted. "East Berbice Corentyne needs to start planning if it is to translate the economic potential of this great region into economic prosperity."
He suggested that the plan be based on information. He stressed that in order to make informed decisions information is needed. He also told persons gathered, that the region needs to be innovative in order to develop further. He encouraged citizens to court investment from overseas-based Guyanese. "You must bring back the people who have accumulated capital if you want to develop the business section in this region," he stressed.
Meanwhile President of the CCCC Mohamed Raffik explained that the expo has evolved over the years despite numerous challenges. However, he stated that there will always be room for growth. "We would like to see the expo a bit more diverse and bigger," he said.
In his presentation to the gathering, he stated that Guyana needs to boost diversification in its economy. However, according to Raffik, this will only happen when citizens of the country are willing to be imaginative and think outside of the box.
He called on local business owners to use the expo and trade fair as a marketing tool for their companies, adding that over 20,000 persons attended the expo last year.
Also in attendance at the opening ceremony were Minister of Business Dominic Gaskin, Regional Chairman David Armogan and other top officials.
The region's top students at the National Grade Six Assessment were recognized and awarded plaques.
The Berbice Expo and Trade Fair, which opened on Friday and ended yesterday was held under the theme, 'Promoting Entrepreneurship for a Diversified Economy.'
Around the Web