The driver of one of the cars that was involved in the fatal accident on the Mahaicony Public Road, East Coast Demerara (ECD) on Saturday, which claimed the life of a four-year-old, succumbed to her injuries yesterday morning at the Georgetown Public Hospital (GPH).
Dead is Sueanna Walcott, 37, a project management consultant of Lot 137 Melanie Damishana, ECD, who was the driver of motor car, PSS 5092, which collided with motor car, PRR 1766, on the Mahaicony Public Road on Saturday.
Walcott sustained injuries to her chest and leg which resulted in internal bleeding and was rushed to the Mahaicony Hospital. She was transferred to the GPH, where she was being monitored as a patient in the female medical ward. She died around 9 am yesterday.
Her brother, Christopher Walcott, told this newspaper that Sueanna, who was one half of a pair of twins celebrated her 37th birthday on Sunday.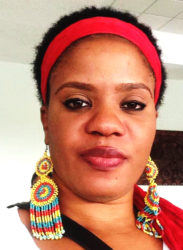 Christopher explained that they last heard from his sister when she called yesterday morning enquiring if they would be visiting her. "She call saying that she hungry and if we bringing anything for her to eat. So right way we start prepare some stuff and send it over," he said.
It was while she was being fed, that Walcott started to experience breathing problems, which were followed by a seizure. One hour later, he said, they received a call from the hospital informing them of her death.
According to Christopher, his sister's death was a shock to the family, since she had only sustained minor injuries and was responding quite well. "Only Sunday we did some x-rays and a CT-scan and it show everything else was alright," he said
At the time of the accident, Walcott was reportedly heading to Georgetown. She was the lone occupant of the car when she negotiated a turn and collided with motor car, PRR 1766, which was driven by Carlson Facette.
Five other persons, Raveena Harris, Rafeena Harris (Raveena's sister), Karmao Harris (their mother), Samantha Dowding and Latoya Wayne were in Facette's car. They were all transferred to the GPH except four-year-old Raveena who died on spot.
Facette had recalled seeing the vehicle "dancing" at a high speed towards him. "I was going to Berbice with four passengers and all I remember was seeing the vehicle coming towards me speed, speed. When I come around the corner it was dancing towards me and they lose control and it just flip and come straight into me," he said.
Dowding had related, "Actually I was sitting in the front seat with the driver and I was on my phone and all I hear is the driver said 'Oh shucks', and by the time I raise me head I see the other car spinning coming towards us and that is all I could remember." She lost consciousness and came to when they were being rescued by public-spirited citizens.
The other injured persons remained patients of the GPH up to yesterday afternoon, Karmao Harris and her eight-month-old child were said to be in the Intensive Care Unit (ICU).
Around the Web