The family of a Zeelugt man is seeking the public's assistance to raise funds for him to undergo an emergency surgery to prevent him from going completely blind.
Julius Taylor, 34, who is a sea captain and father of three, has lost the vision in his left eye after he was hit by several men outside the Parika Police Station.
His sister, Betsy Taylor, told Stabroek News that he was hit to his head with glass bottles. He also sustained a broken nose and jaw as well as multiple lacerations to his eyes, she said.
Currently Julius has to undergo an urgent surgery in Trinidad to save the right eye, which has also been damaged. His sister said that his vision in the right eye is blurred.
A report from the Georgetown Public Hospital Department of Ophthalmology, which was seen by this newspaper, stated that Julius was diagnosed with a bilateral open globe injury.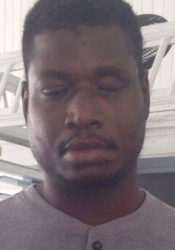 Subsequent to the injuries sustained, he was taken to the Georgetown Public Hospital Corporation for corrective surgery but unfortunately, it was not successful.
The doctor told the family that he would need to undergo a vitreo-retinal surgery to save his right eye since it is not offered here.
Betsy recounted that on July 27, her brother went to the Parika Police Station to enquire about a matter. After leaving the station, he went to purchase cigarettes from a stall.
It was while he was purchasing the cigarettes that someone threw beer in his face. The sister added that when he enquired who committed the act, he was slapped to the face and later suffered a blow to his head with a beer bottle.
Betsy said that at that point her brother was unable to see and was rescued by police officers who were close by.
The attackers fled the scene and so far no one has been arrested. The police have stated that there is no eyewitness for the investigation to proceed further.
The family is pleading for assistance to foot his medical bills. They also have to raise finances for accommodation and travel. The surgery costs $760,000. The family has already raised $360,000 and is asking the public to assist in raising the remaining amount.
Persons willing to assist can make a deposit to Republic Bank Account #203-606-9 or can contact his family on telephone numbers 616-3058 and 261-6306.
Around the Web