Collis Amos, the second alleged bandit who was captured and severely beaten by a group of persons in North Ruimveldt last week, was yesterday charged and remanded to prison.
Amos, 21, appeared before Magistrate Judy Latchman where the charge read to him stated that on August 17, at Georgetown he attempted to rob Roger Lovell.
The defendant of Lot T 72 Sophia pleaded not guilty.
A second charge was also read to the defendant which alleged that on the said day and at the same location, he had in his possession a 9 mm pistol without being the holder of a firearm licence.
Amos also pleaded not guilty to this.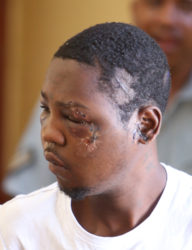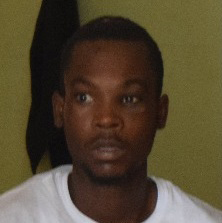 Prosecutor Kerry Bostwick objected to bail on the grounds that the defendant used a gun to commit the offence and was positively identified at the scene of the crime.
He further stated that if granted bail the defendant may flee the jurisdiction and interfere with the complainant.
As regards the firearm charge, the prosecutor stated that no special reason was given by the defendant for bail to be granted.
Subsequently, Amos, a minibus conductor, was remanded to prison and the matter adjourned to September 6 when it will be heard by the Chief Magistrate.
Another man, Patrick Goodluck, was charged on Monday with attempting to commit robbery on Lovell. He too was remanded to prison. On the day in question Lovell had just returned home when he was attacked by the bandits, who entered his apartment and held him at gunpoint.
They demanded that he remain quiet and hand over a gold chain he was wearing but he refused and a scuffle ensued.
During this process, his uncle, who resides in the upper flat of the house, intervened and together they managed to fight off the bandits. It was while they were fighting that the firearm fell out of the armed man's hand and residents, who by then were alerted, attacked the bandits.
Around the Web