Come Tuesday, Castellani House will host a screening of Race, a film based on the true story of American athlete Jesse Owens, an Olympic Gold Medallist.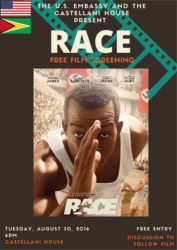 The film stars Stephan James, Jason Sudeikis, Jeremy Irons and William Hurt. Race, released in February this year, tells the story of Owens's performance at the 1936 Olympics in Berlin, Germany, then ruled by dictator Adolf Hitler.
The film is being presented in collaboration with the US Embassy in Guyana. The viewing starts at 6 pm at Castellani House and admission is free. In addition, there will be a discussion following the viewing.
Around the Web