Between the now year-old transition from diagonal to parallel parking and the impending implementation of controversial parking meters in the central business district, some Robb Street businesspersons fear that the city will become a "ghost town" in the future.
"I am a businessman and I've been here over 50 years. My concern is that the soon to come parking meters on my street [Robb Street] is going to cause a big crisis," Suresh Narine, owner of Narine's Liquor Store told Stabroek News.
Narine pointed out that since the change from diagonal to parallel parking, sales have dropped some 30% to 40% and are expected to drop even more with City Hall's parking meter project.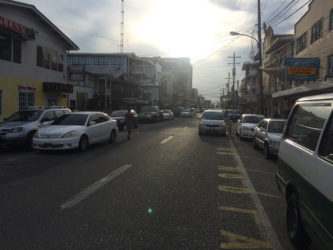 "It will be a heavy financial burden for all businesses. Since they started with the parallel parking programme, everybody business went down and people have been cutting costs, easing off staff because you have to do something to keep the business going. When you would normally fit in a corner and transact your business but now it's not the same," Narine added.
In addition to the parallel parking affecting his business drastically, Narine predicted a further drop for businesses throughout the central business district if the proposed metering project is to become a reality. While Narine admits that there is a need for City Hall to have other plans to garner much needed revenue, he pointed out that the proposed plan is not wise and would only cause a downhill spiral for the business community in the surrounding areas.
"No customer is going to come and pay $300, or whatever the proposed fee will be, to come and buy from me. So, basically City Hall will be chasing my customers. I am really going to have to do something real special to keep and bring new customers," Narine pointed out.
The man also explained that since he has a delivery service, the parking space in front of his store is frequently used and argued that the cost would be unfeasible for him and his customers. "My vehicles take about two hours to load and I have customers in the [meter-designated] areas. What's going to happen? I will have to pay to load and then pay to drop off?" Narine questioned, while pointing out that the project will become burdensome on his business and might force him to move.
Narine contends that the earnings of citizens would not be able to support extra spending on parking.
"Using $300 as the rate for an hour and about 10 hours per day. That's $3,000 per day and assuming that Sundays no one is charged, so 26 days will equal to $78,000 per month per vehicle and plus I live upstairs. It doesn't make sense," Narine added.
"Even if I pick up some slack for the customers, how much could I pick up? If it comes into play, this thing would determine whether I would be able to do business," Narine said.
It had been announced that there were to be consultations between the business community and Smart City Solutions on August 18, at the National Library. Narine said he visited the forum along with other businessmen but was greeted by a "hostile" Ifa Cush, who is the Director of the firm that is to install the parking meters.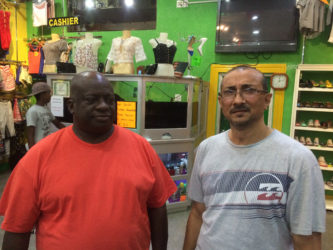 "I turned up and I saw about 100 to 200 people waiting to go in and then after I squeezed myself through I saw another 100 seated," Narine said. He stated that he was later told that instead of it being a consultation, it was a job fair and he was directed to Cush. "So I told him [Cush] that I am here for a meeting as a businessman living on Robb Street coming to have dialogue about the metering programme and he said they were dealing with a job fair. So I asked if it was the right forum and I pulled out the piece of paper and he said it was a job fair and he was very rude and hostile," Narine said, while adding that before he left, he saw other businessmen receive the same treatment.
'You have to listen to everybody'
Owner of Colours Melton Branford confirmed to Stabroek News that the same treatment was meted out to him when he showed up at the National Library for the consultation. Branford echoed similar sentiments as Narine and explained while he doesn't have problem with the parallel parking around the city, it being implemented on a one-way street does not make sense and has contributed to a drop in sales for his business.
In relation to the parking meters, Branford said he was absolutely against their implementation and blasted the company and City Hall for not consulting the businessmen. "They are just coming to bully us and it's not fair. I was invited to a meeting and they didn't accept us. You have to listen to everybody," the man, who has been doing business for over 14 years, said.
A businesswoman, Chandrowtie (only name given), who has been operating her food business on Robb Street for over 35 years, said she has recorded a drastic drop in sales since the change to parallel parking and she feared that the metering project will only bring her added despair. "It affect me a lot since they change the parking. Nobody ain't coming. This placed use to be full, full now people hardly here," the woman pointed out.
She explained that while she sells her food for $400, people would not want to park and pay extra money to shop from her.
Another businessman, Mahendra Boodhoo, pointed out that the slowdown from parallel parking has been one of the worst things that his business has experienced lately. "Nobody gets parking to buy and the store is a ghost town and the parking meters will make it even worse. The disposable income of people is not that great, so if you have to pay for parking you won't have any to do shopping," he added.
"You see, they have the loyal customers that will come and spin around couple times to use your services but the new ones won't and that's the problem. What happens when the old customers get tired and don't able wait," another businessman pointed out.
He said the metering project and should not be implemented.
Another businessman said that the city will become a "ghost town" and the new parking regulations and incoming metering project will only push the business district out of town.
They all agreed that the city should quickly reconsider its stance on the meters and the decision on the diagonal parking should also be reviewed.
Around the Web