The contract of Permanent Secretary (PS) of the Legal Affairs Ministry Indira Anandjit, who was sent on 52 days of leave last December after it was discovered that millions of dollars in law books and computer parts could not be accounted for, has expired and it has not been renewed, Attorney-General Basil Williams said yesterday.
Williams yesterday told a news conference that the Deputy PS Melissa Tucker has been acting in the post.
Last December, Williams had said that Anandjit was sent on leave to "facilitate the ongoing audit" into the disappearance of the law books and computer parts.
He had further said that the auditors were still working and he was therefore unable to give an exact cost of the items that could not be accounted for. However, among the legal material missing were 17 law books of the Commonwealth, valued in excess of $2.5 million, and computer parts costing almost that same amount.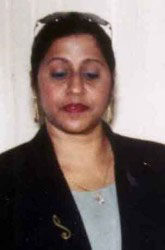 Following this announcement, the Attorney-General later revealed that Auditor-General Deodat Sharma indicated that former President Donald Ramotar said that while in office he had entered into an arrangement with his Attorney-General Anil Nandlall to allow him to buy law books for his personal use with funds from the ministry.
According to Williams, Ramotar had written a letter to Sharma, a copy of which he had seen, detailing the arrangement after the ministry had sent Anandjit on leave.
The law books would have been provided for in the budget of the ministry but they are not in the possession of the ministry. Williams had said the second day after the PS went on leave, vouchers were found confirming the disappearance of the books even though they were authorised by her for payment.
Williams yesterday reiterated that he does not have to accept the decision taken by Sharma not to pursue the matter further and it could be handed over to the police. Asked when this could occur, the Attorney-General said, "Everything is a matter of time…."
He added, "I don't have to accept what the Auditor-General says in a case that is so glaring where the PS at the time signed, approved payments for law books, she approved payments, so she is responsible [for] the books…."
Around the Web