Residents from the community of Warlock, East La Penitence, Georgetown were beneficiaries of a back-to-school drive hosted during last week by the Give Another Chance Foundation.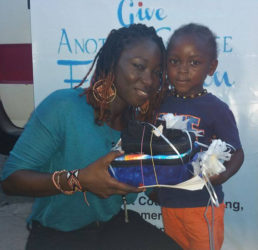 The organisation donated fifty pairs of footwear and fifty backpacks each filled with materials and items needed for school to the children of the community in their quest to achieve a higher level of education.
In addition, the top students of the Hopetown, East La Penitence, Tucville and Sophia Primary schools each received a printer and laptop valued $600,000.
Among them was visually impaired student of the St. Agnes Primary School, eleven-year-old Makeyla Belgrave. She was given a printer, laptop, backpack and $2,000 cash which will go towards purchasing a recorder that will assist her with note taking.
Give Another Chance Foundation is a non-profit, non-governmental organization that has built a track record of more than five years in helping to improve the lives of children in regions one, three, four and five. The organisation is committed to providing basic education from pre-school to university, and health care to underprivileged children in rural and urban communities.
Around the Web