The trial of the siblings charged over cocaine found in a frozen fish shipment that was destined for New York continued yesterday in a city court, where a police corporal recounted the moments before and after the drug find.
Delon Cole related that on June 8th, himself and Corporal Singh were on duty at the Cheddi Jagan International Airport (CJIA) and were conducting searches of an Amerijet shipping bond that had outgoing cargo destined for the John F Kennedy Airport.
Cole said he was given documents in favour of Shafaur Alli by a shipping agent. He said he made contact with Alli, who indicated to him that he was traveling with six other persons, three males and three females (one being his sister Lazeena Imrazi) and that 33 of the pieces of cargo were his.
Cole said he then proceeded to the area where the cargo was located and he observed a number of white Styrofoam boxes. A search of one of the boxes, which carried Alli's name as the shipper, revealed transparent bags, containing fish. When one of these bags were searched, Cole said a long object was found, which, when checked, revealed a "creamish-whitish substance suspected to be cocaine."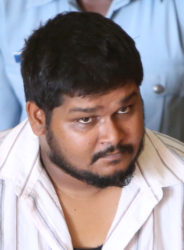 The officer said he showed the find to Alli, who, before he could caution him, blurted out "Oh s***t officer, what y'all could do for me?"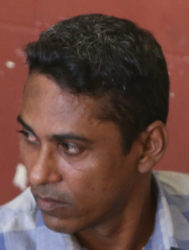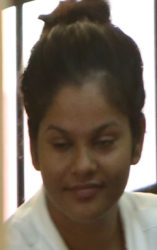 Cole related that Corporal Singh and other officers who had come to assist were present at the time this statement was made by Alli.
Superintendent Wayne De Hearte, the Officer in Charge of the Police Narcotics Branch, also testified. De Hearte recalled that around 2am on June 8th, he received a call from ASP Singh, who informed him of a drug seizure at the CJIA and of a second arrest that was to be made.
He, along with two other ranks, headed to Friendship on the East Bank and were joined on the way by a uniformed rank from the Brickdam patrol. De Hearte stated that while in the vicinity of Pritipaul Singh Investment, the patrol rank pointed out a male walking on the roadway and an instruction was passed to Corporal Henry to arrest him.
The man's name he later learnt to be John Bennett. Bennett was taken into custody and escorted to the Narcotics Branch. Tazim Gafoor, who De Hearte said had been arrested by Singh, was also escorted there. De Hearte said that he later met Alli and Imrazi at the Criminal Investigations Department (CID), where he questioned them in relation to the seizure.
On June 8th, 10 persons were taken into custody after a large quantity of cocaine concealed in frozen fish was seized at the CJIA.
On June 13th, Alli, 27, of Lot 11 La Jalousie, West Coast Demerara (WCD) and Imrazi, 22, of Lot 80 Goed Fortuin, West Bank Demerara were charged with possession of cocaine for the purpose of trafficking and were remanded to prison.
It is alleged that on June 8th, at the CJIA, Alli and Imrazi had in their possession 9.444 kilogrammes of cocaine for the purpose of trafficking.  The duo pleaded not guilty.
Gafoor, 43, a businessman of Lot 39 Menzies Street, Windsor Forest, WCD, was also charged with attempting to pervert the course of justice in connection with the said matter. He pleaded not guilty and was placed on $200,000 bail.
Around the Web