Isaac Caesar, the 15-year-old boy who was listed as critical at the Georgetown Public Hospital after the fatal Regent Street accident two Saturdays ago, has been transferred from the Intensive Care Unit to the ward after he regained consciousness. He is now in a stable condition.
Off-duty police constable, Timothy Horatio, was driving along Regent Street when he lost control of his bus and it flipped several times before crashing into a utility pole around Regent and Albert streets.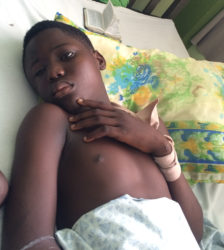 In the bus at the time of the accident was 21 year old Dillon Linton, and 15 year old Caesar, along with three others. The five persons were rushed to the Georgetown Public Hospital.  Caesar and Linton were taken  to the operating theatre because of their critical condition. Linton died the next morning.
Caesar is now said to be making positive strides towards recovery. The boy, who attends St. Winifred's Secondary School, suffered from a broken left leg and a dislocated shoulder among other injuries.
The boy's brother, Mark Caesar, noted that because of the extent of his injuries he would not be able to resume school right away. He is slated to have  surgery tomorrow.
"He's coming around. He's conscious and the swelling on his face is going down. All he has to do now is the surgery," his brother related.
The man said that at the time of the accident, his little brother was going home with the bus and could not recall what happened.
Horatio subsequently appeared before Magistrate Leron Daly charged with causing death by dangerous driving and was denied bail after he pleaded not guilty.
Horatio's next court date is September 9.
Around the Web