An Anna Regina bar owner was yesterday ordered to post $1 million bail to secure his release after he was charged with two counts of human trafficking in a city court.
It is alleged that between July 1 and August 20 as well as between August 18 and August 20, Dwayne Forde, 36, of 6 East Bush Lot, Anna Regina, Essequibo Coast, recruited, transported, harboured and controlled two women for the purpose of sexual exploitation.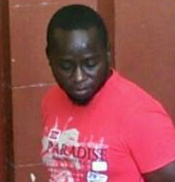 Forde pleaded not guilty to the charges after they were read to him by Chief Magistrate Ann McLennan.
Police Prosecutor Neville Jeffers objected to Forde receiving bail based on the prevalence of the offence and the penalty that the crime attracts. According to Jeffers, investigations into the matter as it relates to one of the victims are still ongoing and there are likely to be more charges brought against him soon.
Attorney Stanley Moore appeared for Forde and said that his client should be granted bail in a reasonable sum since he is a father and is expecting another child. Moore went on to say that that his client surrendered voluntarily to the police and has been cooperating with them since.
During the hearing, one of the virtual complaints, a Venezuelan national, was asked to switch seats after one of Forde's relatives, who was in court, tried to speak with her. This observation was quickly brought to the attention of the court and a social protection officer, who was also present in court, was asked to sit beside the complainant.
After hearing the submissions from both the prosecutor and the defence attorney, the Chief Magistrate granted Forde bail in the amount of $500,000 on each of the two charges. The matter was adjourned until September 13, when it is to be called at the Anna Regina Magistrate's Court.
Around the Web